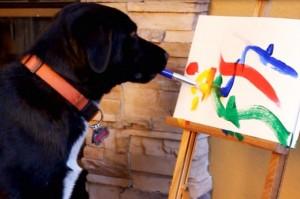 A Las Vegas, Nevada dog is using her special talent to raise money and awareness for the Shade Tree and Noah's Animal House.
It's a local domestic violence shelter for women, children and their pets.
One of Arbor's original paintings was up for auction on eBay, with a bid of $232 at one point. The auction ended at 7:49 p.m. Friday evening.
All the proceeds will go to the organization.
Many times, victims of domestic violence are unable to flee an abusive home live, as many shelters do not allow pets.
But, thanks to Noah's Animal House, women aren't forced to leave their four-legged family members behind.
If you missed bidding for Arbor's painting, you can always donate money to the Shade Tree and Noah's Animal House.
~ Courtesy of ABC Channel 13 – Las Vegas
Tags: dog raises money, Painting Dog