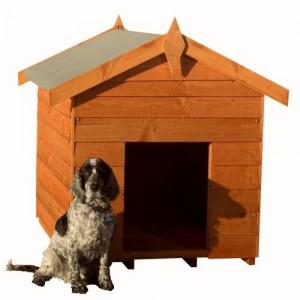 Tiger Overlap Dog Kennel from www.tigersheds.com
I can't remember the last time that there was not a puppy scampering across my back garden. I am a complete dog lover, and I cannot imagine what life would be like without one of these faithful companions to keep me company.
Of course, owning a dog does not come without its drawbacks. I gave up long ago on the notion of owning an attractively landscaped yard; after having my garden torn to shreds four times and discovering hidden holes scattered all throughout my lawn, I came to the conclusion that a beautifully tended outdoor space and a pair of rambunctious puppies simply do not mix! However, my family has always loved gardening, and lamented the fact that we could not have a vegetable plot to tend to. When our old dogs Max and Duke passed away after thirteen faithful years, we promised that we would raise our next puppy in a kennel so that we could have our garden back.
We adopted our new puppy, Shelley, from an animal shelter about six months ago. Shelley is an inquisitive young beagle, although she is a bit calmer than Max and Duke ever were. I thought that her demeanour would make her an ideal candidate for kennel life.
However, I was a bit hesitant to begin the kennel training process. After allowing my dogs to roam freely in the garden, I was worried about the restrictions that a kennel would place on Shelley. Would she be able to receive enough exercise within the kennel's boundaries? Would she be able to protect herself from changes in the weather? Would she resent the fact that we were limiting her freedom?
Thankfully, none of my fears came to fruition. In fact, I have found that owning a dog kennel has made it easier to train Shelley than I ever would have thought possible. Shelley knows that she is allowed to play with whatever she wants within her kennel, and everything else is off-limits. When I think of all the chewed-up gardening equipment that I had to deal with when I owned Max and Duke, I certainly wish we'd had this kennel idea sooner! Furthermore, Shelley is perfectly content with her kennel. The trick is to find the right structure to suit your dog's needs.
One of my biggest concerns when purchasing a dog kennel was how Shelley would be shielded from the weather. As a relatively young puppy, Shelley needed to be sheltered from the cold and the rain as much as possible, and most metal dog kennels are unable to provide any type of warmth. This is why we chose to search for only wooden dog kennels. Wooden kennels are able to protect your puppy from the wind and the cold, and all that Shelley has to do to stay warm is curl up in her kennel's corner.
As for the issue of size, I have found that your dog will not feel restricted by the kennel's enclosed space so long as you allow it to stretch its legs often. I bought the biggest kennel that would easily fit in my garden, but this is rather unnecessary because I take Shelley out for frequent walks. You should select the size of your kennel in accordance with your ability to exercise your puppy.