Reblogged from Before It's News:
Aug. 9, 2015
(N.Morgan) Pets add some much love and laughter to our lives.
They are so loyal to us, ever loving us, even when others don't or won't love us.
This story is about Rusty Diamond, who was kept by his owners outside, chained and never loved or given attention.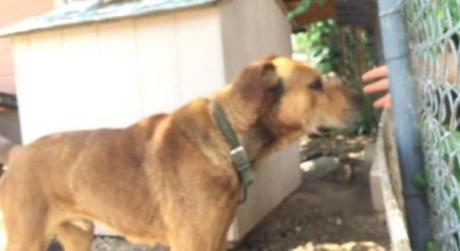 Since Rusty was ignored all of the time, when people did approach him, he seemed mean and scary.
He would bark, growl, snap, and retreat.
The first time Jared Piper met Rusty, the dog certainly didn't seem playful or sweet.
Poor Rusty was chained up to a wall in Phoenix Arizona, where he spent his days barking non-stop at passerbys.
It wasn't that Rusty was mean, he was just scared and lonely and desperately craving affection.
Jared began to visit Rusty each every day, winning the dog's trust and Rusty began to warm up to Jared, wagging his tail for treats and laying his head along the fence to be scratched.
Rusty's living conditions were deplorable: Jared had never seen the poor dog off the chain, he was riddled with flies and had what appeared to be a tumor on his belly.
Jared knew he had to get Rusty out of those conditions, into safety.
One day as Jared was visiting Rusty, his owner came out of the house.
She casually mentioned to Jared that Rusty had been chained up for 10-15 years …
It was his life and all he knew.
Jared firmly told her he wasn't leaving without Rusty.
At first she resisted, telling Jared that Rusty would bite or attack him, but Jared refused to give in.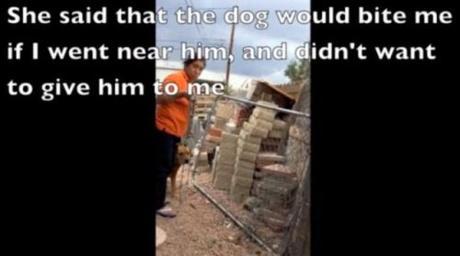 Reluctantly, she handed his chain over to Jared and off the 2 went.
Rusty didn't bite, he wasn't even scared — he just walked gratefully alongside his rescuer.
At the vet's office they had to cut Rusty's collar off his neck since it hadn't been unhooked for so many years.
Rusty was seeing and smelling new places and people, he wasn't defensive or aggressive.
He took everything in and letting Jared know he was completely ready for a new life.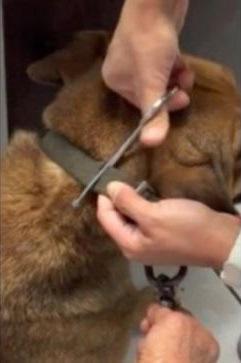 Rusty was treated to his very first bath.
It took a lot of time and elbow grease to scrub off the dirt and motor oil that was caked into his coat for so many years.
Unfortunately Jared couldn't adopt Rusty himself, but he gave him a place to stay while they looked for a forever home.
Meanwhile Rusty got all the medical care he needed and became a healthy, happy dog.
One day Jared found the perfect family for Rusty.
A big house with a huge yard to run and play in, loving humans and lots of doggie brothers and sisters for Rusty to love and play with.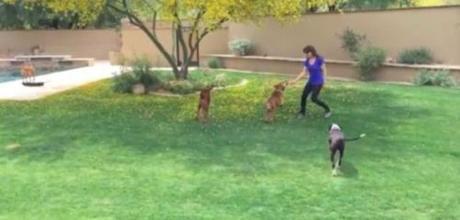 It was pure paradise for Rusty.
Rusty may not have understood what he was missing out on for the 10 or so years he lived chained up in a dirty yard, but as soon as he got a taste of the good life, he was hooked.
Now he has what every dog deserves — a loving, happy home.
Rusty's life was made better by the simple act of someone caring enough to check on an unfriendly-looking dog chained up in a stranger's yard.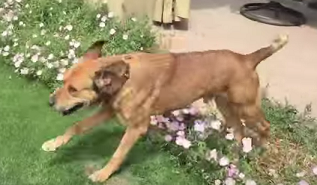 References:
http://worldtruth.tv/this-vicious-dog-spent-his-whole-life-chained-watch-what-happens-when-a-stranger-removes-his-chain/