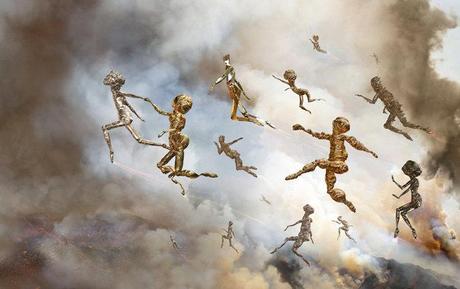 Yeah, I'm angry, again.
I'm on a tight fucking life schedule here, so SCUSE ME if I don't pull any punches any more.
FREE PLANET, where's the global uprising already?
I mean, I'm sorry it's me angry-boy-child Mike Philbin who has to be the standardbearer for this fucking crazy idea of living on a planet where you don't have to pay and pay and pay to eat sleep shit.
But you don't always have the luxury of some Heavenly-prep'd clean-shaven messenger for a delivery as important as this to the future of mankind. Sometimes it's people like me, like you, and like enyone else, who have to deliver both the good and the bad news. It's the normal people who have to stand up and protect the world. In the name of freedom. In the name of life.
I often receive totally bullshit and outright insulting comments, mostly from religious people who I (used to) respect and who (seriously) shouldn't try to refrain from turning an intellectual debate into a character assassination, "God help us if you're in control of your bloody Free Planet."
I mean who the fuck do these unhinged critics think they are? Seeing as on umpteen occassions I've stated, in fact spent many (many) paragraphs on this blog, THIS IS NOT MY FREE PLANET, LEADERLESS EXISTENCE and WE ALL STAND TOGETHER.
My Free Planet revelations (via this blog) wouldn't put me Mike Philbin in control of Free Planet, and that was never my Hitler-like intention. For one, the moustache hairs tickle with hair as ruffling and wiry as mine.
Plus, if I make a single-minded Free Planet break for it, on my own, I'm nothing more than a common criminal in the eyes of that sad institutional landscape we call The Legal System those tacit agreements that you've allowed to push you around and bully you into submission and make sure you never go against The Programming from Orwellian/Huxleyan Central back in the period between two great wars.
Well, they weren't GREAT WARS, they were fucking awful, but you get the idea.
And this isn't even some schizophrenic or game-playing love/hate relationship I'm trying to foster with every online site out there, every reader and reposter, who appear willing and friendly about sharing this message of ONENESS AGAINST TOP-DOWN TYRANNY with the world, i.e. You The People.
Anyway, back to my original rant, I am not the man for the job of Free Planet despot - sorry. Free Planet don't need rulers, don't need telling. IN fact, I fail to see the problem with Free Planet - we protect what's RIGHTFULLY OURS from THOSE WHO WANT TO STEAL/RUIN IT. What the fuck's wrong with that?
Let me post again, this MESSAGE FROM THE FUTURE to see if you can understood, or at least appreciate, what you all lost.