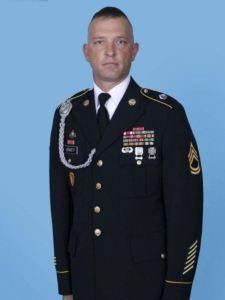 Stars and Stripes: The Pentagon identified a U.S. soldier stabbed to death in Kabul this week.
Sgt. 1st Class Matthew I. Leggett, of Ruskin, Fla., died Wednesday after he was stabbed near the Kabul airport, Afghan police and government spokesmen said. The incident occurred about 10:30 a.m. on Bemarou Road, district police chief Najeebullah Samsur said. The assailant was arrested.
Leggett, who was on guard duty at the time, was stabbed in the neck, a spokesman for the Afghan Interior Ministry said.
Also on Friday, the NATO-led military coalition in Afghanistan announced the death of a servicemember from a "non-battle injury" in the country's east. A news release from the International Security Assistance Force did not provide details or identify the person. Coalition members typically announce the deaths of their own troops.
Leggett's death is the 39th this year of a U.S. troop in Afghanistan, according to a count by The Associated Press. The ISAF servicemember's death is the 53rd this year for the coalition.
Roughly 44,000 international troops remain in Afghanistan — nearly 30,000 of them Americans — as the coalition prepares to end its combat mission this year.
Here's the details the DOD did not include in their release:
According to reports, Leggett was stabbed to death by an alleged low-level Taliban member, who was later arrested and confessed to the crime.
His battalion commander said he was an exceptional noncommissioned officer and valued member of the team.
Leggett joined the Army in May 1995 and joined his company on Fort Bragg in August 2012. The deployment to Afghanistan was his third to a combat zone. Along with his father, he is survived by his mother, Thea Marie Kurtz.
Leggett's awards and decorations include the Bronze Star Medal with one oak leaf cluster, Purple Heart, Defense Meritorious Service Medal, Meritorious Service Medal, Army Commendation Medal with four oak leaf clusters, Army Achievement Medal with three oak leaf clusters, Army Good Conduct Medal sixth award, the National Defense Service Medal, Afghanistan Campaign Medal with one Campaign Star, Iraqi Campaign Medal with three Campaign Stars, the Global War on Terrorism Expeditionary Medal, the Global War on Terrorism Service Medal, Noncommissioned Officer Professional Development Ribbon, the Army Service Ribbon, the Overseas Service Ribbon third award, the Meritorious Unit Citation and the NATO ISAF Medal.
RIP soldier Leggett.
DCG