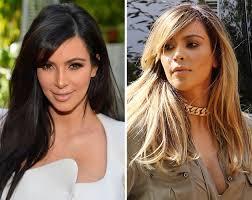 Many people are scared to go lighter because of what hair bleach can do to the hair. If it is not done properly it can result your hair being damaged and even breakage. I have been a hairstylist for 13 years and I believe the stylist is the one damaging the hair if she/he is not properly educated. The bleach must be done to a strand test and timed to the desired lightness. Timing is important. Not only timed but the hair shaft must be lightned first, followed by the roots then the ends. Since hair tips are typically more porous (making color absorb more quickly) and hair near the scalp is heated by body temperature (quickening the color process). Then, work up to the roots and down to the ends. Following this will create minimal hair damage.  
HELPFUL TIPS
• Test your chosen color on a sample of hair before applying the color all over. Choose an area hidden underneath the top layers of your hair.
• Shampoo and deep condition, then wait a couple of days
before
coloring to allow the natural oils in your hair to build up. Your hair's natural oils protect during the color process. Also condition your hair weely after the service.
Trim your hair about 6 to 10 weeks. Trimmimg the ends will eliminiate split ends.
I am thinking of lightnening my hair too and if i do I will post my pics here as well. Good luck on your hair color project and I hope I helped you to decide. :)