Tweet
8
Share
0
+1
0
Pin
1
Share
0
Disclosure: This article is written by or on behalf of And So To Bed and not by The My Girly Parts Team.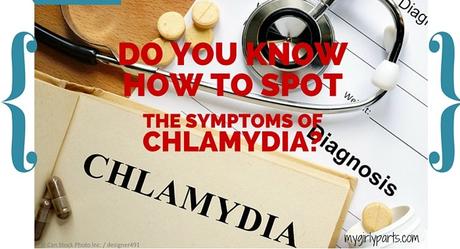 How to spot the symptoms of chlamydia
The most commonly reported sexually transmitted infection (STI) in the US, chlamydia can have devastating consequences if left untreated. In women, it can spread to the uterus and result in a serious condition known as pelvic inflammatory disease (PID). PID is a known cause of ectopic pregnancy and female infertility. In men, chlamydia can cause the testicles to become inflamed. If this isn't treated, it can affect male fertility. This nasty STI can also cause inflammation of the joints, eyes and urethra – a condition known as reactive arthritis.
Avoiding and treating chlamydia
The risk of contracting the infection, which can be transmitted through unprotected vaginal, anal or oral sex, genital contact and sharing sex toys, can be reduced by using condoms or another barrier method of contraception every time you have sex or use sex toys and by avoiding sexual contact with anyone who has symptoms of the infection. Fortunately, chlamydia is usually easy to treat with antibiotics. The most commonly used antibiotics are Azithromycin and Doxycycline. According to Lloyds Pharmacy Online Doctor, both are equally as effective, but Azithromycin may be seen as more convenient as a single dose is all that is required, whereas Doxycycline must be taken for seven days.
Knowing the signs
No matter how careful you are, it is still possible to contract chlamydia. For this reason, every sexually active person should be aware of the signs of this potentially seriously damaging STI.
Women with chlamydia can experience a variety of unpleasant symptoms, including:
Abnormal vaginal discharge
Pelvic or abdominal pain
Pain when urinating
Pain or bleeding when having sex
Bleeding after sex
Bleeding between periods
Periods that are heavier or more painful than usual
Burning or itching in or around the vagina
Men with chlamydia may experience the following symptoms:
Penile discharge that is white, cloudy or watery
Testicular pain
Pain when urinating
Burning or itching in the urethra
If you're experiencing any of these symptoms, don't risk your health by waiting to see if they'll clear up by themselves; seek expert medical advice from a doctor, sexual healthcare professional or pharmacist. It's important to note that the majority (70%) of women and at least half of all men that have been infected with chlamydia do not experience any symptoms at all. To protect your health and give yourself peace of mind, it's a good idea to go for regular sexual health check-ups to make sure that you stay infection-free. You can get checked by visiting your family doctor or a sexual health clinic. It's also possible to get screening tests for chlamydia online.
Do You Know the Symptoms of #Chlamydia? #health #sponsored via @MyGrlyPrts
Click To Tweet
Tweet
8
Share
0
+1
0
Pin
1
Share
0