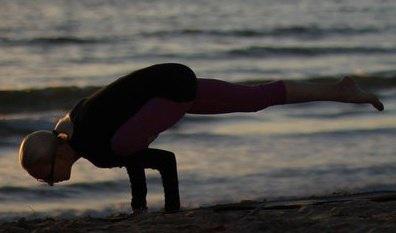 Jamie Koonce, a yogini and primal health coach
Vitamin K2
As opposed to Vitamin K1 (which is found in abundant quantities in leafy green vegetables and blue-green algaes) and Vitamin K3, K4, and K5 (which are toxic synthetic vitamins frequently found in multivitamin supplements), Vitamin K2 is found in large quantities in nattokinase (a fermented traditional Asian superfood) and in smaller quantities in aged, raw, hard cheeses, fish eggs, organ meats, and butter from grass-fed animals.
Vitamin K2 wasn't discovered as a specific nutrient in food until 1929, when researchers were trying to understand the role of cholesterol in the diet.  They fed chickens a cholesterol-free diet, and after just a few weeks the chickens developing hemorrhages and started bleeding.  The researchers added a purified cholesterol supplement back into the chickens' diets, but they remained ill.  Finally, they realized that vitamin K2 had to be combined with cholesterol in order to reverse the hemorrhaging condition.
More current research on vitamin K2 shows that is has promising therapeutic benefits for people suffering from rheumatoid arthritis, cardiovascular disease, prostate cancer, osteoporosis, and leukemia.  Daily consumption of vitamin K2 may prevent these conditions as well.
There's some misinformation floating around on the internet that we can get Vitamin K1 from plants and then convert that into Vitamin K2 in the gut.  This information is primarily being spread by people who have religious or emotional feelings about eating animals and they believe that humans are meant to be herbivores just like cows.  While herbivorous animals such as cows can eat grass and convert the Vitamin K1 from the grass into Vitamin K2 as it passes through their three stomachs, humans unfortunately do not have this same ability because our digestive tracts and intestinal flora are very different from those found in cows.  Therefore, we must get Vitamin K2 from a food source.
Obviously, diet is the best way to obtain proper nutrition, rather than popping a bunch of supplement pills.  However, if you have been lacking Vitamin K2 in your diet for many months or many years (or quite possibly your entire life, especially if you were raised on processed foods like I was), supplementation will probably prove beneficial for you to restore your Vitamin K2 levels over a period of a few months.  (Or of you already suffer from heart disease, cancer, osteoporosis, or rheumatoid arthritis, you may require supplementation for much longer than a few months.)  Remember that nattokinase is really the only abundant food source of vitamin K2.  You would need to be eating several pounds of organ meats, fish eggs, hard cheese, and butter on a daily basis to get the amount of vitamin K2 found in nattokinase.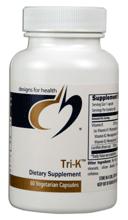 Buy Tri-K 60 tabs $29
Serving Size: 1 capsule
Servings Per Container: 60
Amount Per Serving:
Vitamin K 2050 mcg
(as Vitamin K1 Phytonadione 1000 mcg;
Vitamin K2 Menaquinone-4 1000 mcg;
Vitamin K2 Menaquinone-7 50 mcg)
Lecithin 150 mg
Other Ingredients: Rice flour, magnesium stearate, silicon dioxide, microcrystalline cellulose
Coenzyme Q10
Coenzyme Q10 (CoQ10) is a fat soluble cofactor essential for energy producing metabolic pathways and for the proper functioning of the mitochondrial oxidative system. With insufficient CoQ10, the electron transfer activity of the mitochondria decreases, resulting in a net failure to produce the energy necessary to power the cell. Tissues with high energy demand — especially skeletal muscles, the brain, and the heart — have the greatest demands for CoQ10. Clinical research studies demonstrate the effectiveness of supplemental coenzyme Q10 in cardiomyopathy, myocardial dysfunction, and congestive heart failure.  Additionally, CoQ10 plays a critical role in the establishment of healthy blood pressure levels and heart rhythm.  Because CoQ10 is a powerful antioxidant that neutralizes free radicals, it's also a great nutrient for the prevention of age-related physical and mental decline.
Our bodies actually make CoQ10 on its own, but by around age 20 we begin to not make as much CoQ10 as we need to keep up with free radical neutralization.  By age 30, we begin to lose the ability to convert the stable form of CoQ10 — ubiquinone — into the form that is actually used for mitochondrial function –ubiquinol.  This is why many of the visible signs of aging begin to occur by age 30 for many individuals.
We can get CoQ10 through food, but the foods that are richest in CoQ10 are organ meats such as heart and liver.  A 4-ounce serving of beef heart supplies about 20 mg of CoQ10, while 4-ounces of beef liver has about 7 mg.  Realistically, I don't think many of us are interested in eating beef heart and liver on a daily basis.  And unfortunately, 20 mg of CoQ10/day is not really enough to significantly slow down the aging process, especially if you're already depleted from poor diet during childhood, stress, and living in a heavily polluted world.
There are no side effects to taking a CoQ10 supplement, even at doses as high as 1200 mg/day.
My recommendations on CoQ10, which are based on current research in anti-aging medicine, are as follows:
30 to 100 mg daily as part of your anti-aging and longevity program if you are over age 20, for prevention of cardiovascular or periodontal disease, or if you are taking blood-pressure medications that are depleting your CoQ10 levels

90 to 180 mg daily if you have angina pectoris, cardiac arrythmia, hypertension and moderate gingival disease
180 to 360 mg daily for congestive heart failure and dilated cardiomyopathy
Note: If you are over 30 but under 40, you may consider taking a supplement that contains both ubiquinone as well as uniquinol.  And if you're over 40, taking a supplement that contains only ubiquinol is the best choice.  If you're under 30, regular CoQ10 in the form of ubiquinone is the best choice for you.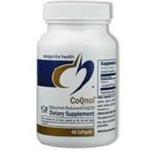 CoQnol Ubiquinol-Reduced CoQ10 60 gels (Best form for you if you are over 40.)
Click here to buy for $33
Serving Size: 1 softgel
Servings Per Container: 60
Amount Per Serving:
Ubiquinol (as Kaneka QH reduced form of CoQ10) 50 mg
Other Ingredients:
Medium chain triglycerides, gelatin, glycerin, ascorbyl palmitate, purified water, beeswax, soy lecithin and annatto extract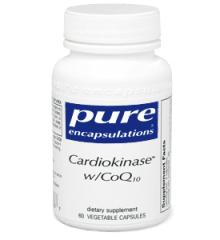 Cardiokinase w/CoQ10 60 vcaps (Best form for you if you are between age 30 – 40.) *I really LOVE this one because it contains ubiquinone, ubiquinol, and nattokinase (AKA the food source of vitamin K2) all in one neat little "beadlet."  It's making me look forward to hitting that 30th B-day very soon so that I can try this one out! ♥

Click here to buy for $65.90
Servings per Container: 30
Amount per Serving
ascorbyl palmitate 10 mg
(fat-soluble vitamin C)
Cardiokinase™ 100 mg
(Nattokinase strain N) (25 i.u.) (from non-GMO soy)
coenzyme Q10 60 mg
ubiquinol 40 mg
(Kaneka QH™ active antioxidant form of coenzyme Q 10)
Other Ingredients: gelatin beadlet, cornstarch, mixed tocopherols, vegetable capsule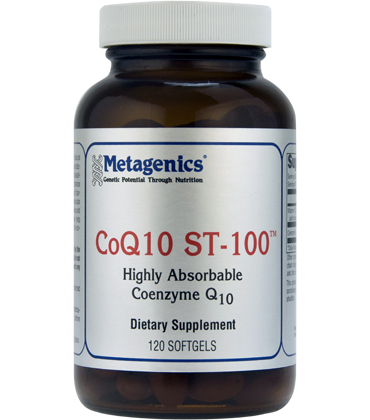 CoQ10 ST-100 60 softgels

(This one is perfect for you if you are under age 30.  This is a great supplement to use 30 minutes before a college exam or important job interview to enhance mental acuity.  Note that this is a 2-month supply!)
Supplement Facts
Serving Size: 2 Softgels
Servings per Container: 30
Amount per Serving
Vitamin E 100 IU
(as d-alpha tocopherol and mixed tocopherols)
Coenzyme Q10 (ubiquinone) 100 mg
Other Ingredients: D-limonene oil, gelatin, glycerin, medium chain triglycerides, purified water, turmeric powder (color), and zinc oxide (color).