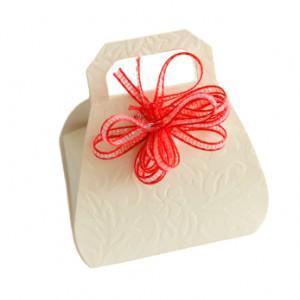 With endless options available, choosing the perfect wedding favours can be tricky. Why not do something a little different for your special day and create your own favours – they will be both personal and unique (and save you money if you're on a budget!); all they require is a little time and imagination. Here are a few of suggestions to get you started:
Get Baking. Homemade cooked goods are a great idea to use as wedding favours, such as shortbread or brownies, or even jars of your own jam if you're feeling ambitious! Make this favour even more special by presenting it in a special way – try coloured wrapping and ribbon or homemade labels on boxes or jars.
Get Musical. There is nothing more romantic than a mix tape, so try modernising this concept and make a mix CD – when your guests listen to it they will be reminded of your special day. You can buy printable CD labels to personalise your wedding favour, and try wrapping a ribbon around it and tie a bow through the "O" of the CD if you want to make it look more like a gift.
Get Fiery. Let your love bring warmth and light into the lives of your guests by making your own candles – it's a lot easier than it sounds! All you need are wicks, soy wax flakes, candle tins and essential oils (if you want them to be scented). Make sure to decorate your tin with a label so that your guests know they are homemade, they are bound to be impressed!
Get Green Thumbed. If you and your beau enjoy gardening, or really love a particular plant, then using seeds would work perfectly as a wedding favour for you. Be imaginative when choosing how to package your seeds – hand painted mini envelopes, coloured bags and pretty bottles, boxes and tins are all brilliant ideas. Your guests will undoubtedly be reminded of your wedding day when the seeds begin to grow and bloom.
Wayne Barker writes for Portfolio of Fine Diamonds, whose beautiful diamond engagement rings are the perfect way to propose. They also have a fine selection of wedding rings and other fine diamond jewellery.