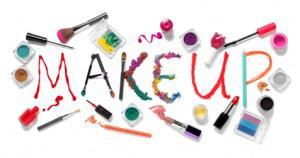 Keeping a make-up bag is indispensable if you keep changing bags.  If you don't have one, you will most likely leave one item in your bag yesterday or the day before that.  In addition to that, no make-up bag means that it is difficult to find your make-up as it might be scattered inside your bag.
Buying a make-up bag is an easy option.  But if you want to incorporate your style into your bag, you might want to try making one for yourself.
Here are the steps:
1.       Create a pattern by folding a standard letter size computer paper (8 ½ X 11).  Fold the paper in half and cut it.  The 8 ½" side of your first half should be marked with the words "fold line" in the center.  Mark it with "makeup bag pattern".  Use the other half of the paper as lining pattern.  Make sure that you label this one with "lining".
2.       Prepare fabrics with different patterns and colors.  Make sure though that these fabrics match each other.
3.       Cut a piece of fabric for your fold line.  Make sure that your fabric fits the dimensions of your pattern.  I usually place the pattern on top of the fabric and then trace the pattern onto the fabric using pen or paper.  This ensures than I have the exact measurement.  Cut.   Cut another piece for your lining.
4.   Cut another narrow piece of fabric.  It should be 3 inches by 12 inches.  Fold and iron about ¼ inches from each long side.
5.       Pin the fabric from step 4 into the fabric from step 3.  Place the step 4 fabric in the middle.  Just make sure that the pretty sides of the fabrics are showing. ***pretty side means the side where patterns are clearly shown
6.       Attach one lining piece to one short end of your bag.  Use pins to do this.  Use a presser foot to make straight stitch easier.  Do the same technique on the opposite end of the bag.
7.       Fold your bag in half.  Make sure that the pretty sides of the bag are facing each other.  Pin the bags to hold them together but leave a 4 inch gap.  The gap will help you easily turn the bag and pull out the fabric.
8.       Sew the sides except for the opening.  Clip or cut the seams if needed.  Just clean your stitches.
9.       Pull out the fabric to reveal the pretty side of the bag.  Slip and push back the lining.
10.    Apply top stitch around the top of your makeup bag.
11.   Sew a Velcro in the opening of your bag.  This is a zipper replacement.
12.   Personalize the bag.  You can add buttons, bows, or anything else to bring out your personality.
Voila!  Your makeup bag is finished and ready to use.  You can now put your makeup inside and start enjoying your bag.  Now, your makeup sits in one place.
Start sewing your bag now.  Good luck.  I hope that your bag turns out well.
Marcy Gray likes sharing her tips and tricks, and opinion through writing. In addition, she likes to write about various topics such as frigidaire dehumidifier 70 pint and frigidaire fad504tdd.