Diva Spiced in Meharchand Market is one of the most underrated restaurants in Delhi. It hasn't been seen as people's preferred choice for Pan-Asian food, and seeing the food that they have to offer, that should really change. 
A nice warm ambience with wooden flooring and wooden furniture. Sleek chairs and tables with soft lighting from the lamps overhead, tables laid with paper mats of Diva's locations in Delhi, a small bar on the side that boasts of a lovely range of wines, and you have an outlet of Diva that's super classy.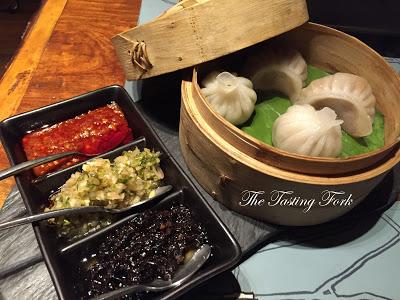 Their Crystal Dumplings are to die for! A yummy juicy Chicken, Chives and Coriander Root was the best one for me, but the Chinese Greens & Water Chestnut gave it a tough competition with the crunchy diced vegetables and the translucent coating on top. The Pork Confit and Chilli was superb too- with the soft pork flavoured so well with spices. The dumplings were served with three smacking dips- chilli, blackbean and ginger.
Simply outstanding Thai Spring Rolls with a crisp exterior and a yummy interior filled with glass noodles and vegetables, and a drop of sambal sauce on top. Mind-blowing good! Came with an equally great chilli dip on the side. The Rice Paper Rolls were an excellent choice too. Healthy, fresh and delicious, served with a sweet chilli dipping sauce on the side to balance the subtlety of the rolls.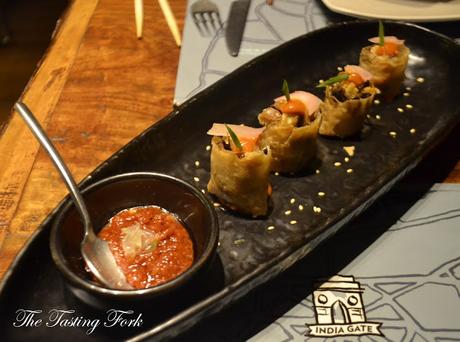 I'm not a person who would ever opt for tomatoes in a salad. I hate raw tomatoes to the core, but I tried Bomra's Tomato Salad and I was very surprised after trying it. I loved loved loved the salad! The most surprising part is that I loved the tomatoes! The tomatoes weren't sour as they are usually, they were really juicy and sweet. The sweetness came from the dressing, but the general character of the tomatoes that has sourness in it, was also not present here. Wiped off my plate till the last morsel. So crunchy, with such fresh vegetables, it's a must must try salad here!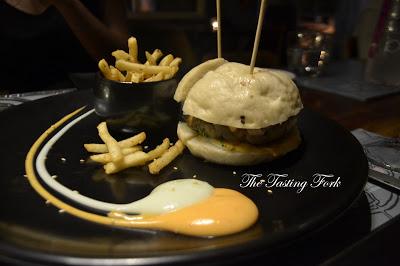 Diva has recently launched Asian Bao Burgers in their menu- the healthy way of eating burgers, but not the less delicious one for sure. The bun is replaced with steamed baos, and the ingredients inside the burger aren't that fattening too. I tried their Soy and Wasabi-rubbed Chicken Burger with Salt and Pepper Fries and Sambal mayonnaise. The burger was delicious as hell, but for someone who doesn't like sweet sauces, you would have to balance this with mustard or tobasco. A yummy patty, though I couldn't taste the soy and wasabi in it- not even a hint, the chicken patty was damn nice nonetheless. No other nonsense inside, just the dressing. The sambal mayonnaise has very little sambal in it, and tastes more like a mayo. However, there's something to the burger because of which I still say it was really good. Just balance it with something salty or chilli and you'll be good. The fries served with the burger are wow!
Chicken Steamed with Asian Herbs and Garlic Rice- do not miss this dish at Diva Spiced!! It's hard to say leave the dumplings aside if you don't have a big appetite, but you must order this dish too and share it with someone! Garlic rice to die for, with two pieces of steamed chicken dunked in a lip-smacking gravy with a yummy salty and flavourful kick to it. The gravy is excellent in taste. And the garlic rice can be had without anything accompanying it too- it's that well-rounded in itself.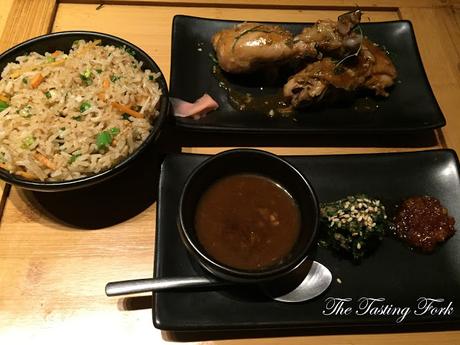 Peal Barley Risotto cooked in Moilee Sauce is not everybody's cup of tea. The barley is too hard for my liking, and the moilee sauce didn't impress me either. The punch from the sauce was missing, it had been made milder to suit the taste buds of people here, but wish the moilee sauce could have been kept a bit more closer to the original version available in Kerala.
You must try the Salted Caramel Tart if you're craving something sweet at the end of a meal. Comes with a maple icecream and a caramel pudding. Lovely lovely caramel in everything.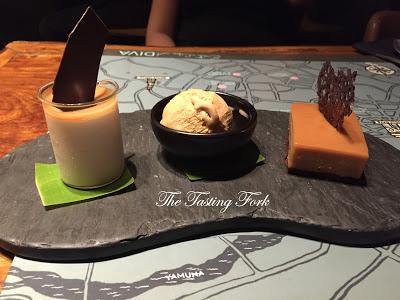 Polished off my food with a beautiful Red Wine Sangria and a glass of wine. Cannot emphasize enough on how perfect the sangria was! Sangria lovers must come to Diva Spiced specially for the drink.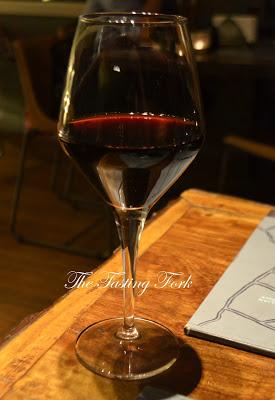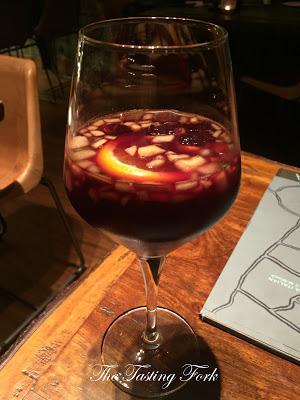 The place has some crazy delicious food and the location works in its favour too. There's no parking hassle- almost always you will find parking right outside the restaurant. The staff knows the food and the menu well, they know what to recommend to you and the service is great. The only thing that bothers is the pricing. It's slightly overpriced when you compare it to its counterparts. Some dishes are well-priced but some aren't. The food is great nonetheless. A must visit place if you're looking to have a quiet meal or a few drinks in a chilled environment. 
Address: 79 and 80, Meharchand Market, Lodhi Road, New Delhi
Contact: 011 49051837
Timings: 11:30AM to 11:30PM
Disclaimer: The review was done on an invitation from the restaurant. All views expressed are unbiased in nature but readers are advised to exercise their own discretion.
Connect with me on:
Twitter: @sahibagursahane
Instagram: 
@thetastingfork
Facebook: 

www.facebook.com/thetastingfork
Snapchat: @thetastingfork
Roposo: www.roposo.com/@thetastingfork