Buenos Aires is truly the city that never sleeps. Not only do you have an endless list of things to do during the day, once the sun sets you're just getting started. Buenos Aires has a plethora of bars and boliches (nightclubs) where you can find everything from a wild night of dancing until 6am or a classic night of wine tasting; but the most interesting and well hidden gems of the porteño night life are the speakeasy bars, or secret bars.
Many of these speakeasy bars are password protected, in a private home or renovated mansion, and function almost entirely by word of mouth. Below are a list of my favorite speakeasy and hidden bars in the city. Be forewarned – they're not cheap (anywhere from 80-100 pesos drinks) but the high quality cocktails, atmosphere, and people watching is worth the high price.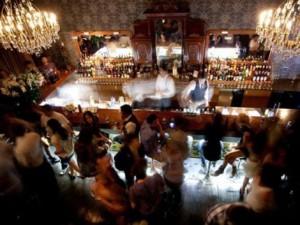 Frank's
Arévalo 1445
Although Frank´s may have lost most of their hidden status as they are slowly become more and more well known, they still hold up the speakeasy end of their bargain. You'll find Frank´s on a quiet street with only a small sign to identify its location. Ring the bell and discover for yourself the steps to enter this secret bar. Once inside you'll be greeted by a classier interior and even classier cocktails. Watch the show that the bartenders put on as an added bonus.
Pro Tip: Check their facebook page for the password of the week.
878
Thames 878
On another tranquil street is the speakeasy bar of 878. Although a password isn't necessary, it´s definitely not the easiest to find if you don't know what you're looking for. This classy bar offers a large wine selection as well as an impressive cocktail list. Sit at the bar and watch your bartender work their magic, or opt for the comfy seating in one of the three rooms.
Pro Tip: Come earlier and order a few of the delicious appetizers.
Club Verne
Medrano 1475
This hidden bar doubles as a dinner option with gourmet hot dogs being served paired with cocktails at surprisingly reasonable prices. These aren´t you usual panchos, or street hot dogs, as each one comes specially prepared with its own sauces and condiments. Try the caramelized onion and in house made dijon mustard as a complement to your braught.
Bonus: The staff at Club Verne are extremely pleasant and willing to help make your experience the best possible.
Ferona Social Club
Humboldt 1445
Located in an old renovated house, this two story bar offers it all. From delicious (and not too pricey) drinks, chill music, great people watching, and an outdoor terrace, you'll have people dancing and chatting the night away.
Pro Tip: I walked past this house twice before I actually entered, so don't be scared to walk right up and knock. Once you find the address, walk through the iron gate and knock on the front door and someone inside will let you in.
Milion
Parana 1048
Although not technically a speakeasy or hidden bar, I couldn't keep this classy renovated mansion off the list. Climb up a flight of spiral stairs and you'll find yourself in a beautiful old room with high energy and (especially on the weekends) great music. If you come early enough there are delicious tapas (appetizers) and desserts to share.
Pro Tip: Don't miss out on the outside terrace and patio in order to catch a glimpse of the entire place from the back.
La Floreria Atlántico
Arroyo 872
La Floreria Atlantico is one of the less known speakeasy bars, located in Recoleta and hidden behind a still functioning flower shop, this bar takes its patrons through a worldly cocktail experience with the drink menu divided in sections based on country.
Ps. This was the most expensive speakeasy that I encountered so be warned and come with plenty of cash if you're looking to try more than one drink.
Victoria Brown
Costa Rica 4827
Located in the heart of Palermo Soho, this speakeasy bar has, in my opinion, one of the most unique entrances with a revolving brick door that feels like the entrance to Hogwarts. Once inside, this beautiful bar does not disappoint with a delightful array of cocktails.
Bonus: The menu comes with a cocktail compass that will point you in the right direction based on your drink preferences.