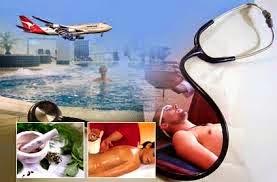 This report provides a comprehensive analysis of the India medical tourism market covering in detail various aspects such as Medical Tourists' Arrivals and Medical Tourists Market (spending) from top 63 countries.

Indian Medical tourism
has emerged as the fastest mounting segment of tourism industry. Bangladesh is the leading source country. Maldives is the second leading market for India medical tourism but its share is continuously declining and it is anticipated that Afghanistan will replace Maldives to capture the second spot in Indian medical tourism market.
Russia
is one of the emerging source markets for Indian medical tourism market. Nigeria in Africa and Iraq in Middle East holds massive potential for India. Germany, France and Canada medical tourists' numbers are also rising year on year.
This 248 page report with 260 Figures and 3 Tables provides a complete analysis of top 63 countries who visited India for medical treatment. All the 63 countries in the report have been studied from 2 viewpoints.
   Medical Tourists Arrivals in India from the year 2009 – 2018
   Medical Tourism Market (Spending) in India from the year 2009 – 2018
The 63 Countries covered in the report are as follows
   USA
   Canada
   Argentina
   Brazil
   Mexico
   Austria
   Belgium
   Denmark
   Finland
   France
   Germany
   Greece
   Ireland
   Italy
   Netherlands
   Norway
   Portugal
   Spain
   Sweden
   Switzerland
   UK
   Czech Rep.
   Hungary
   Kazakhstan
   Poland
   Russian Fed.
   Ukraine
   Egypt
   Kenya
   Mauritius
   Nigeria
   South Africa
   Sudan
   Tanzania
   Bahrain
   Iraq
   Israel
   Oman
   Saudi Arabia
   Turkey
   UAE
   Yemen
   Afghanistan
   Iran
   Maldives
   Nepal
   Pakistan
   Bangladesh
   Sri Lanka
   Bhutan
   Indonesia
   Malaysia
   Myanmar
   Philippines
   Singapore
   Thailand
   Vietnam
   China (Main)
   China (Taiwan)
   Japan
   Rep.
   Australia
   New Zealand
Table of Contents
1. Executive Summary
2. India Medical Tourist Arrivals & Forecast
3. India Medical Tourism Market & Forecast
4. India Medical Tourism Market Share & Forecast
5. North America – Country Wise Medical Tourist Arrivals, Spending & Forecast
6. Central & South America – Country Wise Medical Tourist Arrivals, Spending & Forecast
7. Western Europe – Country Wise Medical Tourist Arrivals, Spending & Forecast
8. Eastern Europe – Country Wise Medical Tourist Arrivals, Spending & Forecast
9. Africa – Country Wise Medical Tourist Arrivals, Spending & Forecast
10. West Asia – Country Wise Medical Tourist Arrivals, Spending & Forecast
11. South Asia – Country Wise Medical Tourist Arrivals, Spending & Forecast
12. South East Asia– Country Wise Medical Tourist Arrivals, Spending & Forecast
13. East Asia – Country Wise Medical Tourist Arrivals, Spending & Forecast
14. Australasia – Country Wise Medical Tourist Arrivals, Spending & Forecast
15. Other Countries – Medical Tourist Arrivals, Spending & Forecast
Resource: www.whatech.com/market-research-reports/press-release/medical/31587-india-medical-tourism-market-analysis-2018-forecasts