My family and I often joke that our house should have a sign in front that reads "Home Healthcare Store." In actuality, our little joke isn't far from reality; we own enough adaptive equipment that if we put it all in one room, it would look like we have a combination physical therapy office/rehabilitation clinic/medical supply store. We have a little bit of everything, ranging from items like weighted medicine balls and stretchy therapy bands to custom equipment such as walkers, braces, and wheelchairs. And while I could fill an entire blog post with a list of all the things that make my life a bit easier, I'd like to focus on the little things I use each day – both true adaptive tools and repurposed household items – to be as independent as possible. After all, it's the little things that make the biggest differences.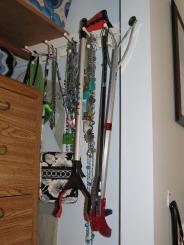 Three different types of adaptive reaching sticks hanging on white hooks, surrounded by several multi-colored necklaces and a black and white flowered purse.
One of my favorite adaptive tools, a reaching stick, can be found in nearly every room of my house. They are strategically placed; you can see three different kinds hanging on the same organizer rack as the necklaces in my bedroom (I brought 2 home from college), another resting on a hook in my bathroom, and so on. If you're not familiar with the wonders of reaching sticks, allow me to wax poetic about them for a moment. They are amazingly clever tools made of metal and plastic. Also known as grabbers or reachers, reaching sticks may as well be known as a key to independence for me. I'd say I drop things or knock things over at least three times a day, if not way more than that. While I'm lucky to be agile enough to bend down and reach larger items off the floor, I have elbow contractures that often make it difficult to reach the distance from my wheelchair to the ground, especially to retrieve smaller objects. Assuming I don't knock over something like, say, an entire box of little colored beads from my craft drawer, or my entire bottle of multivitamins, it's never difficult to pick up after myself with my trusty reacher. It eliminates having to rely so much on other people for help, and I'm sure my dad appreciates fewer exclamations of "Oops! Daaaaaaa-ad!" following the sound of a crash.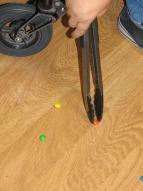 Using a pair of kitchen tongs to pick up M&M's candies.
Of course, it would look a little silly to always carry around a giant reaching stick. I suppose I could refer to it as my scepter, since I sit on the royal throne of my wheelchair…But in reality, my mother, who is also a fan and frequent user of reachers, has come up with a rather inventive solution to avoid the looks one might receive when toting around a long metal stick with a claw: carry a pair of kitchen tongs instead! I mean, there's nothing less silly than kitchen tongs, right?! (A word of warning for all novice adaptive kitchen tong users: be cautious not to bring them into restaurants with salad bars or house ware stores like Bed, Bath, and Beyond. You might end up having a lot of explaining to do if people think you're stealing things!) In all seriousness, though, using tongs as a smaller version of a reaching stick demonstrates one of my favorite ideas: disability breeds creativity.
Because I was born with my disability, my life has always necessitated creative adaptations to make things easier or more accessible. Over time, thinking up creative solutions has become the norm for me to be as independent as possible on a daily basis. For instance, in most houses, you might find an ottoman near a big comfortable chair for people who are inclined to put their feet up at the end of a long day. And while I definitely love to put my feet up in the evening, you won't find me using my ottoman to rest. While most feet end their days with an ottoman, mine start the day with one. I have a small ottoman right next to my desk in my room, ready and waiting for me when I'm about to put on my shoes.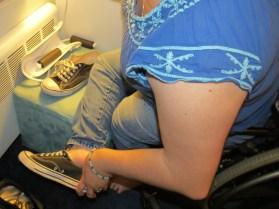 Putting on my shoes by resting my leg on a turquoise ottoman!
When I was younger, I needed help putting shoes on every morning because I couldn't reach my own feet. (I know, you're wondering why I didn't just use a reaching stick if this is a reaching issue, but alas, a reacher cannot solve everything.) By the end of elementary school, however, I realized that I didn't want my parents to assist me in getting ready every morning for the rest of my life. So, we problem solved, searching for items at the perfect height for me to lift my legs onto so I could reach to slip on my shoes. After lots of searching, we found a display of small turquoise ottomans at, you guessed it, Bed, Bath, and Beyond! (Don't worry, we didn't bring the kitchen tongs with us!) Now, I don't have to give a second thought to the daily task of putting on my shoes, all thanks to a little creativity and brainstorming.
Adapting things to meet the needs of my disability is not always quite as simple as taking a quick trip to my favorite house wares store, but I embrace little victories and creative solutions. If everyone, disabled and nondisabled, took the time to consider the ways in which we must all adapt, and the ways that many barriers or obstacles are unnecessary and even preventable with a little creative thinking, this would be a fantastic step in the right direction for disability access and equality.
What are your favorite adaptive tools or ways to adapt things? I love to learn new creative ideas!