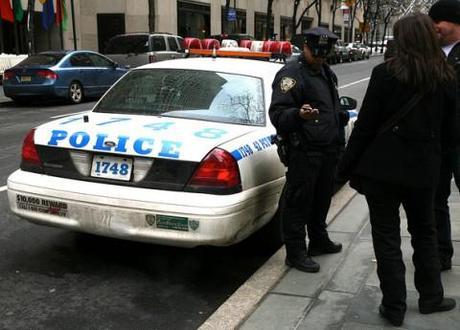 Should the New York Police Department be allowed a little fun now and then?. Photo credit: Vincent Desjardins

What is it with the police and dirty dancing at the moment? That's the question being asked after two New York policeman were reportedly caught on camera erotically bumping and grinding (AKA daggering) with female revellers at New York's West Indian Day parade. The video of the American cops, which has gone viral, follows hot on the heels of a similar video emerging of a British policeman getting a little bit carried away at London's Notting Hill Carnival.

And here's the British policeman in action:

The British copper's moment of (dancing) madness was treated as an amusing bit of light-hearted fun by the UK media but reaction to the US policeman's actions has been more scornful. While the cops were having fun, "gunfire broke out along other portions of the parade route," noted Fox News, which reported that the September 5th Brooklyn-based parade has been linked to a significant number of the shootings. "It's not corruption" by the officers, a source told The New York Daily News. "But it looks bad. It's young cops doing something stupid."
Snarky website Gawker took a softer line: "Consternation!! Alarm!! Here is a shocking video of NYPD officers at the West Indian Day Parade, in which the cops appear to be enjoying themselves and interacting positively with the community, instead of preventing shootings that were happening blocks away, possibly at a different time altogether!"
Daggering is a dance move mostly associated with Jamaican dancehall music. It involves the male dancer pelvic thrusting his female dance partner in a sexually charged manner.
The video was initially uploaded to WorldStarHipHop.com
More viral video »