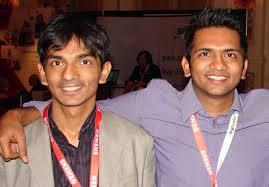 Photo Courtesy of DN Journal
The Turakhia brothers (Bhavin and Divyank) are in the news today after expressing their interest to buy back 100 % interest in Media.net. This was the only business the serial entrepreneurs started that had an outside investor.
The brothers started Directi while still in their teens and have since started many companies over the last 15 years. Businesses include: LogicBoxes, ResellerClub, and BigRock. Directi announced its more than $30 million investment for its application for 31 new generic top level domain names (gTLDs) with ICANN's new Generic top level domain expansion program. The company established Radix to serve as the applicant and eventual registry operator.
Of course another legendary domainer owns Media.com, Thunayan K Al-Ghanim of Future Media Architects.
The EconomicTimes section of the India Times covered the Media.net buyback announcement.
Divyank Turakhia, founder and CEO, Media.net, confirmed this in a conversation with ETPanache. Ashmore Investment Management owns onethird of the business. Media.net, which manages over $200 million a year in revenues, is the only venture started by the brothers, which has an investor on board."I am going to be one of those rare founders who is lucky enough to have the opportunity to buy back their stock. The buying of India assets is done. Now, we are buying the rest of the assets. It .. Read more at:
http://economictimes.indiatimes.com/articleshow/44820485.cms?utm_source=contentofinterest&utm_medium=text&utm_campaign=cppst