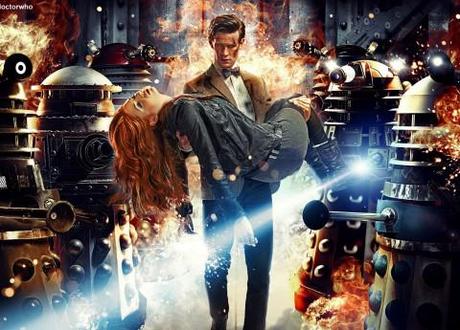 Explosive new image from Doctor Who series seven: Amy Pond's exit. Photo credit: BBC
The trailer for series seven of the BBC's long-running sci-fi drama Doctor Who hit the Internet on Thursday, to a chorus of delighted squeals from the show's fans.
The explosive 90-second trailer has just about everything: The 11th Doctor, Matt Smith, in a bow-tie, dinosaurs on a spaceship, dinosaurs being ridden around, a full-on Western, legions of Daleks, very cross giant robot guys, creepy stone angels, explosions, more explosions, and what looks like the death of Amy Pond (Karen Gillian), the Doctor's companion. Presumably, this all makes for one tantalizing minute and a half for fans of the show, but it's all a bit murky for just about everyone else.
In any case, the first show of the series, "Asylum of the Daleks", premieres on 14 August at BFI Southbank in London before reaching screens this autumn. The Steven Moffat-penned series is also celebrating its 50th anniversary this year, so expect big, big things.
Who will replace the outgoing companion, Karen Gillian? The honor goes to Jenna-Louise Coleman, 25-year-old actress best known for her Emmerdale work.
So, what did you think? Are you excited?
Doctor Who series seven:

The new trailer for Doctor Who looks amazing.

— Kai Owen (@KaiKaiOwen) August 2, 2012
New Doctor Who trailer will make stop both your hearts with awesomeness on.io9.com/yKCH

— io9 (@io9) August 2, 2012
More in Doctor Who

Doctor Who sparks surge in bow ties sales
Doctor Who rumours: Will Matt Smith leave?
Yawn… another Doctor Who movie