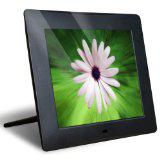 Life is nothing but a handful of moments. Each and every moment has its own taste and color whether it is a moment of thoughtless fun or a carefree run or of painting your brother's hair blue or of holding your first child for the very first time, every moment is blissful in its own way. Even though the moments are independent and different they are all similar in one point, in their flying by and slipping away nature and that is what makes them worth saving. The best way to preserve those precious moments is NIX Digital picture frames.
People of our times do not have the resources to enjoy the fresh and pollution free nature like our ancestors did. May be that is the reason why we are so based on technologies these days making more advancement in this sector with every passing day. Like everything else in our life technology has touched and has glowed our home appliances, decorative and gadgets as well. Digital picture frames are among the vital ones of this kind.
In 2007, a company namely Creedon Technologies formed and introduced NIX Digital to the world of the digital frames. It is a United Kingdom company that has caught on to the markets of Germany and the United States of America for its exotic British design and advanced technologies.
The areas that make NIX frames the clear winner are their LCD screen, their image processor chip and their memory function. The LCD display of NIX frames are backlit which makes the screens brighter than that of the other companies. The brightness and contrast are also adjustable.
The image processor chip that is used by NIX is faster and more powerful than others that helps it to reproduce the images better.NIX frames support images up to 16 mega pixels to be displayed while many others only have the capacity of 5 to 7 mega pixels.
The memory functions of NIX frames are the best in any kind. Most brands produces frames with either memory slot or internal memory in them while NIX digital offers both of the functions. As a result the memory storage of these digital picture frames become very sufficient to store and to show more pictures and videos than other brands' ones.
Digital picture frames by NIX can easily be used as portable media playing devices. So, once buying a digital photo frame simply pick the best one, pick the NIX one indeed.
This article was brought to you by Nix digital picture frames.