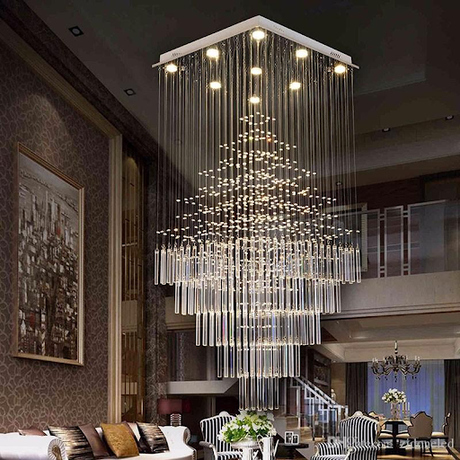 Chandeliers are in use since 17 th century and can create an ambience of the hall or dining space. They are made with various naturally occurring crystals which mimic the shape of rings and crown.
In this post, we shall talk about number of designs of rectangular crystal chandelier that are generally in use in various modern as well as traditional building set up.
1. Baroque
These kinds of over-the-top candlelit creations will display hand-carved semiprecious stones which offer exceptional clarity, welcome change from various dull gray colored French glass that was widely available during the 17th century.
Their frames have multiple number of curved metal "branches" or "arms" that appear as if reaching to the sky.
Their arms are decorated with bulky rock crystal pendants, rosettes and drops generally coming from Bohemia which is the Czech Republic of modern day.
2 Rococo
The backlash of the initial days against the excess which pervaded Baroque era was known famously as Rococo movement.
In that period of Louis XV, mostly chandeliers were of bronze having intricate designs which were slightly weaker in their aesthetics.
In number of cases, it was shorter in its stature to above Baroque crystal chandeliers. The curlicue frames which mimic leaves and vines along with flower-like, will all be characteristics of this kind of style.
3. Neoclassical
If you want to look in the past for any kind of inspiration, then consider European designers e.g. Robert Adam and James started pioneering neoclassicism.
Perhaps one of the best-known examples of this kind of style is the "Adam" crystal chandelier.
This airy and long silhouette has glass stem which resembles Greek urn, having glass arm tires with uppermost holding crystal spires, and also swinging festoons with multi-faceted lower-tier, pear-shaped pendants.
4. Venetian
Unlike leaded glass or rock crystal, Venetian glass will never be cut rather it will be melted and molded into smooth organic shapes.
The first version of Venetian glass chandeliers was presented in the 1700s, with designer called Guiseppe Briati that defines the look that is most recognized today.
Several glass arms which appear to grow right from central metal stem can be adorned with elaborate and colored glass flowers, leaves and fruits.
5. Georgian/English traditional
As the advancement of glass continued, the crystal chandeliers too became more fashionable. In case, anyone owned palace or similar other luxurious residence particularly in Europe, then a crystal chandelier used to be practically a necessity.
This was not just for its down-to-earth functions but for defining a home and social status of homeowner. By the time Georgian period started in England, even arms were made of glass which was strong enough and could support pendants.
One of the best examples that you can see is Georgian crystal chandeliers that is hanging in "National Trust's Bath Assembly Rooms.". It was made by William Parker.
He too was a glassmaker of high quality like Duke of Devonshire.
For London home during the beginning of 19th century, Parker and his associate William Perry had created almost 15-foot titan laden having 56 lights which was considered as the finest available in Europe.