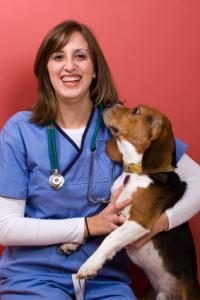 Some kids enter college with the sure knowledge that they want to work with computers, while others would rather work with people. But then there are students that simply feel more comfortable spending their time around animals. As such, it's not surprising that they might seek occupations that allow them to help animals either directly or through policy planning and conservation efforts. But there aren't too many degree programs that offer such career opportunities. So if you happen to be on the prowl for a college major that will allow you to realize your dream of working with animals, here are just a few options you might want to consider.
1.   Animal husbandry. No, this does not require you to marry your favorite pup or pony. In fact, animal husbandry is an agricultural field that is concerned with the breeding and raising of livestock. In some cases the animals raised in this manner are used for food, but that doesn't necessarily mean you have to engage in slaughtering the livestock you raise. You may want to create free-range facilities that provide the public with animal products like eggs and milk from livestock that is organically raised and humanely treated. With a degree in animal husbandry under your belt you can provide the healthy goods that the public is clamoring for while maintaining a cruelty-free farm for the livestock you love.
2.   Zoology. This is a good starter program for any student interested in a career working with animals, mainly because it provides an excellent springboard for a variety of more advanced degrees. As a zoology major you'll receive a well-rounded education, complete with coursework in animal diversity, anatomy, physiology, and ecology, amongst other subjects. This could indeed qualify you to work in zoo environments (as you may have guessed from the name of the degree program), but it will also prepare you for further study in variety of areas like marine biology or veterinary medicine, just for example.
3.   Wildlife, fish, and conservation. This degree is rather specific, and as such, it will limit you to certain careers. The most obvious path includes working for government agencies that ensure our national parks and their animal inhabitants are protected (Fish, Wildlife, and Parks, for example, or perhaps the Forest Service). But you might also go on to work for conservation groups that seek to keep animal populations safe from the threats of mankind. You might even work for animal rescue operations. If you worry about the plight of our planet's wild species, this degree could provide just what you're looking for.
4.   Animal science. The main focus of an animal science program is to impart lessons concerning the biology and physiology of various animal species. Many students that choose this path opt to specialize in a particular type of animals, such as equines or marine life. This degree is largely intended as a stepping stone to further study in areas like animal behavior, nutrition, or veterinary medicine.
5.   Veterinary medicine. Whether you get a real degree's rankings opinion in order to take starter classes online or you shoot for admittance to the most prestigious schools for veterinary medicine, you should prepare yourself for several years of study when you select this major. But if your dream job includes nursing sick animals back to health and ensuring that they lead healthier, happier lives overall, there's no better career for you than that of a veterinarian.