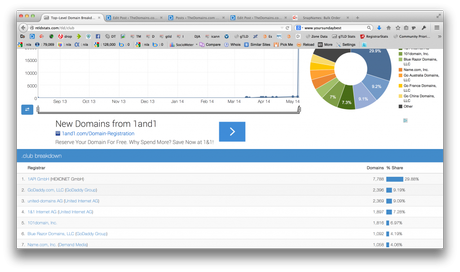 As most domain investors know myself, Adam Dicker, Rick Schwartz and Page Howe have had a weekly show on DomainSherpa.com for many months were we discuss news and other things going on in the domain industry.   On last Thursday's DomainSherpa.com show, Adam Dicker said that he had just a few days before found the domain name registrar Hexonet.net and told the audience that he loved the customer service, support and that Hexonet was going to be his go to registrar and highly recommended them to the audience.
After Adam's comment,  I told the audience I agreed with Adam wholeheartedly and in fact had been moving my entire domain portfolio to Hexonet over the last 18+ months and that Hexonet was my registrar of choice and the vast majority of my new gTLD registrations had been done through Hexonet.
To be clear Hexonet did not pay us or compensate us in anyway for our recommendation and didn't even know it was coming (even I didn't know this discussion would be coming up).
We just gave our honest feedback on a company in the domain space that we both used.
During Yesterday's DomainSherpa's show,  host Michael Cyger asked Adam and I if we had gotten any feedback from our comments regarding Hexonet and if people took our advice.
We responded we did get some personal feedback but that it was too early to tell how many people took our advice
However yesterday once the zone files for the new gTLD's updated and the 25,000+ .Club domains got added to ntldstats.com, a couple of things on the Registrar side of the stats stood out.
For one Hexonet which had previously been around 15-17 in terms of registrar market share of new gTLD registrations had jumped up to number 5.
Looking at the registrar stats for just .Club which launched yesterday, Hexonet was actually the number 1 registrar for the extension with 7,788 registrations more than three times more than the next closest registrar which was Godaddy.com, which had almost 2,400 registrations.  Hexonet did 40 times the registration volume on .Club than the second largest registrar in the world Enom did.
That is pretty amazing considering Godaddy has about 50% share of the domain registrar market, 25% of the registrar share of the new gTLD market (including many in-house registrations from Uniregistry) and that Godaddy has done a huge push for .Club to the extend the founders of .Club were sitting at Godaddy's offices when .Club was launched.
So did two domain investors; two DomainSherpa's move the entire new gTLD registrar market and possibly the domain registrar market itself.
Like I answered yesterday, its too early to tell but the numbers are pretty incredible.