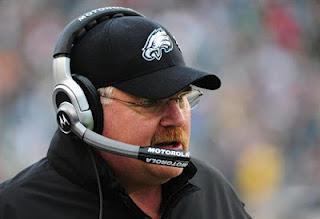 Photo: AP Images
- Troy Ballard
I know, I know -- enough with the jokes about how Andy Reid would be doing the Eagles a favor. 
But really, this has been a hot topic floating around that Reid was reportedly threatening to quit before the season if 
he was not given more control over the team and personnel
. The rumor was sparked by an 
LA Times 
article that cited two NFL sources close to the situation, and like most good sports news that happens in Philly, it exploded into a huge deal almost instantly. 
This report about demanding more control happened in conjunction with an entire other rumor that Reid considered pursuing Peyton Manning. The blaze on the Reid fire was burning at an all-time high, and this article from the 
LA Times
 has sparked a whole new chain of questions and concerns regarding the Eagles going into 2012. 
Fortunately, Reid, being quite the Philly media juggernaut that he is, decided to release a few statements through the Eagles organization regarding the rumors --
"
As far as the personnel control, I have had final say on personnel matters for quite some time here and that's never been an issue or a point of contention. Our front office works very well together and that's one of our strengths
."
"
We look into everything, as all teams do, and I have the highest regard for Peyton Manning. But as I said publicly last month, that wasn't the direction we were heading in. Michael is our guy.
"
I'd like to first address the Manning issue -- the Eagles, regardless of whether Reid was interested or not, were never in serious contention for his services. It is well documented that Manning was trying to avoid playing his little bro, Eli, as much as possible, and Philadelphia plays the New York Giants twice a year. 
On another note, the Eagles are still locked-in with Michael Vick, at least until the end of next season when the team could shed his contract. 
The Reid leaving situation -- it's an eyebrow raiser. 
When thinking about it, the chances of Reid having any wiggle room, especially to demand more power, seem incredibly slim. After last season's 8-8 finish, Reid is frankly lucky to even have a job, and  Philadelphia is not begging and graveling for him to stay. 
I would have to imagine that if he were to walk into Eagles' HQ and demand more control, Jeff Lurie and co. would gladly show Big Red the door and would simply look elsewhere for a coach. 
It seems kind of suspicious that a publication across the country from Philadelphia broke the story with two unnamed sources, but who knows, maybe Reid has finally gone totally power hungry.  But that's doubtful, and at this point, don't bother reading into it. 
Be sure to follow Beard And Stache on Twitter 
@BeardAndStache
, 
and also Adam 
@Adam_Parker43
, Like our Facebook page 
HERE
!