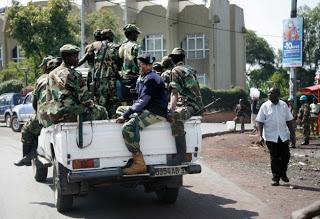 (PHOTO: M23 casing the Goma branch of the Central Bank of Congo, on
Monday, November 26, prior to their heist of the next day)
***
Corroborative sources in Goma say that M23 were moving today some of
their troops north--as demanded last Saturday at Kampala by the
Declaration of the heads of state of the International Conference for
the Great Lakes Region (ICGLR)--and northwest, towards Sake, 25 km
away, a city they captured shortly after seizing the provincial
capital of North Kivu.
M23, who, by this maneuver, are thus making short shrift of the ICGLR
heads of state's Declaration, also appear to be leaving behind in the
city some of their heavily-armed troops clad in brand new DRC National
Police (PNC) uniforms.
In Kinshasa, government officials and politicos who were banking on
M23 cranking out cities and territories they conquered hand over fist
are up for a rude awakening!
(Talking of banks, DRC Media Minister Lambert Mende added more details
today about the heist carried out by M23 Tuesday at the Goma branch of
the Central Bank of Congo. M23 robbers apparently worked day and night
using time-tested bank robbery tools: electric saws, drills, blow
torches, sledge hammers, etc. They had commandeered generators
beforehand as there was no electricity in the city.)
This apparent redeployment, which in effect seals Goma, would for the
foreseeable future continue to cut off the city and its surroundings
from Bukavu and South Kivu.
***
PHOTO CREDITS: Jerome Delay / AP