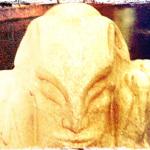 Dialectic Two-Step 
 is an ongoing series of my thoughts on questions that come my way.
Wisdom lies neither in fixity nor in change, but in the dialectic between the two. - Octavio Paz 
Question: What is your advice for better meditation?
Response: This is a broad question, so I'll break it down a little:
"Better" meditation? This is a little bit of a trap.  If we're  seeking a better meditation, can we truly be engaged in the meditation we're in? From a high level, letting go of the concept "good"  and "bad" meditation is good advice.
Success – It's good to start out with reasonable goals. A brief daily practice of 5-10 minutes is a good start.  Taking 5 breath breaks during work is also useful.  These short meditations offer immediate relief and build confidence in the value of the practice.
The Five Hindrances- there are teachings on things to look out for in  meditation and how to address them.  The hindrances are sensory desire, Ill will, sloth or torpor, worry or restlessness, and doubt. A quick overview of the antidotes are as follows – (to read more go to Five hindrances)

 Desire - first be mindful that desire has arisen, then meditate on it's impermanence.
Ill Will- loving kindness practice (compassion)
 Sloth-Torpor - having confidence in the path, finding the natural source of energy, seeing the beauty that is exposed via mindfulness…. (joy)
Worry-Restlessness- developing contentment and equanimity 
 Doubt - Good instruction, confidence in the path.
The  last thing I'll offer, is the confidence I've developed in the benefits of meditation.  Persisting with this practice has offered me boundless benefit.  I hope that you can  benefit from  it as well.
Get Each Week's Dialectic Two Step in your email box
First Name:
Last Name:
Email address:
In addition to a monthly email you can also subscribe to the following weekly series:
One Minute Meditations
Tiny Drops (Photography series)
Compass Songs (My Favorite Poems)
Dialectic Two-Step
Modern Koans (interesting questions)
Sunday Morning Coming Down (Music Videos)
Relics (Timeless Republished Articles)
Say What?
Quotes
Verse Us (Poems I Write)

The post Dialectic Two-Step – What Is Your Advice For Better Meditation? appeared on Andrew Furst.