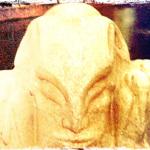 Dialectic Two-Step 
 is an ongoing series of my thoughts on questions that come my way.
Wisdom lies neither in fixity nor in change, but in the dialectic between the two. - Octavio Paz 
Is Atheism Causing Despair?
My online compatriot Kenneth Justice has a great blog titled Culture Monk in which he deftly  handles the topics of religion and politics.  I frequently read and comment on his articles.  It's good stuff. In series of two articles he asks "Is Atheism Causing Despair?"  He makes the case that, for many, the promise of an after life is the only thing between them and despair.  One person responded with a great question "Is offering false hope better or worse?" Here's my response: 
Myself I'm torn on the false hope, hope, no hope thing as well. Certain readings of the Gospel, especially in the context of Judaism – the Torah is silent on an afterlife – would indicate that Jesus' message was apocalyptic and the Kingdom of God would be here on earth and with very strict rules – not some cozy gated community on cloud nine.
We also need to consider the anxiety that heaven's alternative introduces. If you live in a secular western country and abide by our cultural norms, then I'm sorry, you've got NO HOPE. You've turned your back on the law that Yahweh will be using to judge you. We're going to hell in a hand basket.
That said, I don't think that Christianity's offer of hope is what the poor, destitute, and forgotten are clinging to. It is a modern cultural narrative that leaves out the nasty theology.
I think the hope is worthwhile for the people Ken mentions, and yes, I think it's a Santa Claus size fib that they're being offered, BUT it's not our business to take it away. It is however on our backs ("our" meaning the latte brigade) that we don't step in to offer something more substantial than a low probability euphemism like heaven.
So back to the gist of the article, I do object to Kenneth's correlation between atheism and despair. I think this is false. First, I think he may be tossing out a wobbly premise. Despair is on the rise REALLY?  Second, if it is, attributing that rise to a fringe population (6% of Americans are atheists) sounds a lot like scapegoating.
In his defense though, I think Kenneth has struck on the the right path forward. He has spent the time in the homeless shelters, the jails, and the rehab clinics, reaching out. Despair comes from being marginalized, ignored, and unheard. Sitting down, listening, and chatting over a cup of coffee will offer more hope to someone in need than any flavor of religious or anti-religious mumbo jumbo.
To borrow and modify Bill Clinton's campaign strategy – It's the community stupid! Community is at the core of our humanity. Religions have offered it for eons, but with strings attached. Let's dump the mumbo jumbo and be there for each other.
Get Each Week's Dialectic Two Step in your email box
First Name:
Last Name:
Email address:
In addition to a monthly email you can also subscribe to the following weekly series:
One Minute Meditations
Tiny Drops (Photography series)
Compass Songs (My Favorite Poems)
Dialectic Two-Step
Modern Koans (interesting questions)
Sunday Morning Coming Down (Music Videos)
Relics (Timeless Republished Articles)
Say What?
Quotes
Verse Us (Poems I Write)

The post Dialectic Two-Step – Is Atheism Causing Despair? appeared on Andrew Furst.