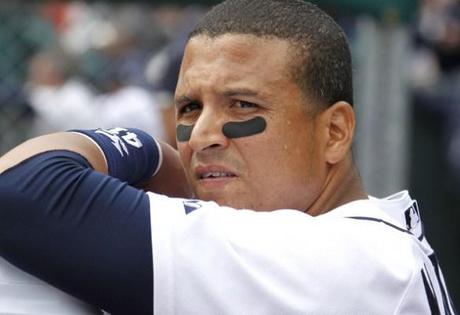 According to mlb.com, Detroit Tigers catcher and first baseman Victor Martinez injured his knee during offseason workouts and is going to require surgery, most likely ending his 2012 season before it ever began.
The defending AL Central champs will be without one of the game's best hitters, a versatile player who can beat pitchers from both sides of the plate. Martinez drove in 103 runs in 2011, while posting an on-base percentage of .380. During his 10 seasons in the American League, Martinez has an average OBP of .370.
The loss of a key hitter in the Tigers' lineup, such as Martinez, means more pressure will be on Tigers All-Star Miguel Cabrera to carry the load this season. The Tigers were the fourth best American League team in scoring runs in 2011. With the league's reigning Cy Young award winner, Justin Verlander, and a potent offense, the Tigers were set to make another run at an AL Central title. With the rest of the division in various states of health and transition, the Tigers will still be the favorites to repeat.
The surprising Cleveland Indians' chances may have improved with the sudden news of Martinez's misfortune. The Indians finished in second place last season, 15 games behind the Tigers, and one game ahead of the Chicago White Sox. With the White Sox's recent flurry of offseason transactions in order to decrease payroll, their window for a division title may be closing fast. The Minnesota Twins are always a threat with talent such as Justin Morneau and Joe Mauer. Their rash of injuries and pitching issues last year made it the first season in some time where the Twins had little say in the AL Central race.
While the perennially bad Kansas City Royals are finally starting to look like possible division noise-makers with young talent such as Alex Gordon, Eric Hosmer, and Mike Moustakas, the loss of Victor Martinez means the Tigers will have to really earn a repeat appearance in this year's postseason.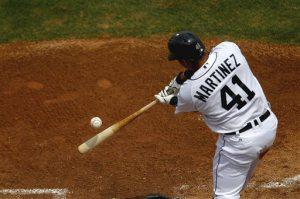 Martinez, who finished 2011 primarily at DH after suffering a knee injury, re-injured the same knee preparing for 2012 with his offseason workouts last week. The Tigers front office was made aware of the injury and the results of an MRI Monday revealed the ACL tear. The severity of the injury and type of surgery usually requires at least 4-6 months of rehabilitation.
Martinez first made a name for himself in Cleveland, bursting onto the MLB scene as a switch-hitting catcher in 2002. One of Martinez's best seasons came in 2007 with the Indians when he hit 25 home runs and slugged at a .505 clip. After a couple of seasons in Boston, the 32-year-old Martinez landed in Detroit last year and helped propel the Tigers to the playoffs for the first time since 2006.
-James Kries