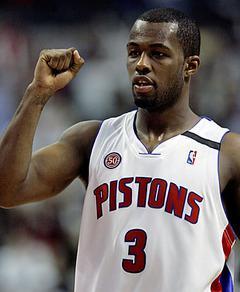 Photo: mlive.com
- Adam Parker
The Detroit Pistons announced Saturday that restricted free agent Rodney Stuckey signed a new contract to remain with the team. The Associated Press has confirmed reports that the deal is worth $25 million over three years.
The Pistons drafted the 6'5" Stuckey out of Eastern Washington with the 15th overall pick in 2007. Detroit reached the Eastern Conference Finals in his rookie season -- the sixth straight season they had made it at least that far.
Stuckey has averaged 13.6 points and 4.5 assists over his four-year career with the Pistons, and also led the team with a 15.5 point average in 2010-11.
Stuckey has been a regular starter the last three seasons, but the team hasn't sniffed a playoff win since 2008.
It's clear that the Pistons still consider Stuckey to be a part of their future plans. Now the question is, where will he fit in the rotation?
After all, Detroit already has Will Bynum, and after adding Kentucky product Brandon Knight in the draft, they now have a logjam scenario at the point guard spot.
Long-time Piston centerpiece Richard Hamilton agreed to a multi-year deal to join reigning MVP Derrick Rose in Chicago recently, so Ben Gordon will likely have an increased role this season under new Pistons head coach Lawrence Frank.
Frank, after spending last season on Boston's bench as one of Doc Rivers's assistants, hopes to bring that same defense-first philosophy to the Palace in Auburn Hills and lead this melting pot of Pistons back to where they belong - the playoffs.
Veteran Pistons Tayshaun Prince and Ben Wallace are the only remaining players from the team's 2004 NBA Championship team so the team will look to them to lead Detroit out of the cellar of the Eastern Conference in the coming seasons.
Stuckey will be there too, and no matter what position he ends up playing, (my guess is he'll see time at both guard positions) you can be sure he'll make a solid contribution.
Re-signing Stuckey was an interesting move for Detroit, especially considering how guard-heavy their roster already is, but as Stuckey's game continues to grow, the investment by Joe Dumars and the rest of the Pistons' front office will no doubt prove to be a fruitful one.
Be sure to follow Beard And Stache on Twitter 
@BeardAndStache
, 
and also Adam 
@Adam_Parker43
, Like our Facebook page 
HERE
!