"…if you don't have a sword, sell your cloak and buy one." – Jesus Christ, Luke 22:36
Insisting that "refugees" from Syria do not pose a danger to U.S. national security when the FBI has admitted we don't have the database to properly vet them, a group of American Evangelical leaders who call themselves the Evangelical Immigration Table (EIT), have written a letter to Congress declaring their opposition to limiting the number of Syrian "refugees" being resettled in the United States, on the grounds of "compassion" and that "Jesus was a refugee".
This is EIT's letter in its entirety:
December 2, 2015

Dear Members of Congress,

With more than 50 million refugees, asylum seekers, and internally displaced people in the world, we are facing the world's worst displacement crisis since World War II. The conflict in Syria alone has forced approximately 4 million individuals to flee the country, with millions more displaced internally. The deliberate, brutal targeting of Christians solely because of their faith is especially alarming.

Since the inception of the modern U.S. refugee resettlement program in 1975, 3 million individuals fleeing violence, conflict and persecution have started their lives anew in the United States. Many of these refugees have been welcomed by local church communities that have helped them get back on their feet. Just last year alone, the United States resettled close to 70,000 refugees. In 1980, the United States received more than 200,000 refugees in one year. Resettlement to the United States is not the sole or primary solution to the displacement crisis, but this important tool in humanitarian protection rescues the most vulnerable refugees and embodies the best of our country's values. It also promotes a positive image of our country abroad and encourages other nations to follow our example.

As Congress considers legislation to reform the program, we ask you to consider the following:

• Reject damaging changes to the U.S. refugee resettlement system that would cause this life-saving program to grind to a halt. Adding additional layers of bureaucracy to a proven system will not make us any safer, but it will keep us from providing refuge to people whose lives have already been threatened. The U.S. resettlement program is a life-saving tool that rescues some of the most vulnerable refugees around the world. It is also one of the most secure programs the United States has for allowing anyone to enter the country. While tourists, students and business travelers may undergo minimal security screening, it takes on average 18-24 months for a refugee to be vetted through the security process. Biographic and biometric data is collected and checked against multiple U.S. security and intelligence databases. In addition, each refugee has a face-to-face interview with a trained Department of Homeland Security official as well as a thorough medical screening before they are admitted. This process has worked to exclude individuals who could be a potential threat to our national security.

• Do not exclude any religion or nationality from the U.S. refugee resettlement program. The hallmark of our refugee resettlement program is that it accepts refugees based on vulnerability and ties to the United States. Religion and nationality are factors to consider in evaluating the refugee claim, but the program should not exclude a refugee on one of those grounds alone. Each refugee story is unique and as such should be treated on its own merit.

• Increase the resettlement of Christian refugees. The persecution of Christians is uniquely severe given their extreme minority status. Christian communities in the Middle East are facing attacks that can only be considered genocidal in intent. The United States must do more to protect them.

• Do not neglect other vulnerable refugee groups. We are concerned about the plight of religious minorities in the Middle East, including Christians. Resettlement is one tool of protection which can and should be used in cases where refugees cannot return home or locally integrate. The United States should identify and receive a larger number of religious minorities from the Middle East including, but not limited to, Christians. The United States can increase the resettlement of persecuted Christians in addition to other vulnerable religious groups, including Yazidis, Muslims, and others.

• Address root causes of the conflict so more refugees do not have to flee. Resettlement is a durable solution of last resort in extreme situations and is not an option for most refugees. Refugees often prefer to return home once conditions in their home countries improve or locally integrate in the countries of asylum. Thus, we urge you to dramatically increase assistance to refugees in places where they seek refuge, while also acknowledging that resettlement is a key durable solution for many refugees who are unable to return home or locally integrate in a country of asylum.

• Work with governors and local communities to welcome refugees. The U.S. refugee resettlement program is a federal responsibility that depends on the cooperation of local and state governments, as well as churches and volunteers. We urge you to work with state and local elected officials to ensure that states continue to fulfill their responsibilities. Many businesses and faith communities welcome refugees and work in close partnership with state and local governments to help refugees become self-sufficient, quickly integrated, contributing members of their communities.

The United States resettles less than half of 1% of the world's refugees. At a time when turmoil and war are forcing millions of people to flee their homes, the United States should ensure the refugee resettlement program, a vital lifeline, continues to protect the world's persecuted. As our country does so, many evangelical Christians within local churches and college campuses are eager and willing to volunteer their time and resources to assist in the resettlement and successful integration of refugees.

Our faith inspires us to respond with compassion and hospitality to those fleeing violence and persecution. Jesus himself was a refugee, and he teaches us to do unto others as we would have them do to us. Compassion is not in conflict with national security. The U.S. refugee resettlement program has embodied both values and continues to be a valuable humanitarian tool that should be supported. Our nation has rich history as a beacon of freedom and hope. Please help us as we write the next chapter in this history.

Sincerely,

The Evangelical Immigration Table
Hey, Evangelical Immigration Table and other Christian leaders (see below) who are urging the U.S. to take in "refugees" from Syria and other Muslim countries in the Middle East and Africa, do the hordes of young, military-age male "refugees" invading Europe in the pics below look like Jesus to you?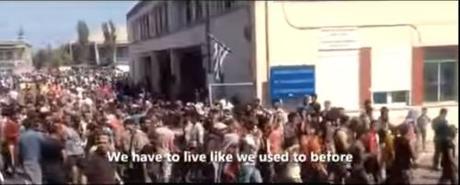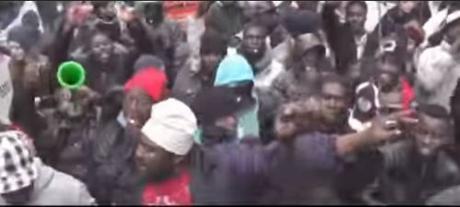 According to the Christian Post, surveys, such as a Bloomberg poll from November, say that more than half, or 53% of Americans, oppose taking in more refugees.
Dr. Ben Carson visited Syrian refugees at a Jordanian camp over the Thanksgiving weekend. He said what the people really want is to go back home, rather than to be resettled in America: "I was a little bit surprised with the answer, because it wasn't what we're hearing a lot. We're hearing that they all want to come here to the United States. And that's not what they want. They want to go back home."
The way for Syrian refugees to return to their homeland is for the Obama administration, Israel and NATO (especially Turkey) to stop supporting the so-called "rebels" in Syria in their war against the democratically-elected Assad government. Assad has not and does not persecute Christians; the so-called Syrian "rebels" do and will. Among them are al-Qaeda and ISIS, but the Obama administration insists the U.S. is only aiding the "moderate" rebels. Yeah, right.
Israel actually provides free medical care to wounded Syrian "rebels". Go figure.
But Galen Carey, vice president of government relations of the National Association of Evangelicals, insists that welcoming in refugees represents the "Christian commitment to caring for the most vulnerable." He said: "The United States has the best and most secure refugee resettlement program in the world. Our approach has worked so well because Evangelical Christians and others have played a prominent role in welcoming the 3 million freedom-loving refugees who are now valued members of our communities and churches."
Other Christian leaders, including Pope Francis and the Archbishop of Canterbury Justin Welby of the Church of England, have also said Western countries should be more open to refugees. The Vatican has taken in a grand total of one Syrian Catholic family of four.
Like the Evangelical Immigration Table, Archbishop Welby also compared the plight of Middle East refugees and some of the hardships Jesus Christ faced. A spokeswoman for Welby said in September, "As the archbishop has said, Jesus was a refugee, and there are refugees here who are desperate for sanctuary from war-torn places and the archbishop is completely torn about their situation and wants to make a difference."
The Evangelical Immigration Table describes itself as "a broad coalition of evangelical organizations and leaders advocating for immigration reform consistent with biblical values." Here are EIT's members:
Council for Christian Colleges & Universities: an international association of "Christ-centered" colleges and universities based in Washington, D.C., with 120 members in North America and 55 affiliate institutions in 20 countries.
Ethics & Religious Liberty Commission: an entity of the Southern Baptist Convention, the largest non-Catholic denomination in the United States with more than 16 million members.
Liberty Counsel: an international nonprofit "dedicated to advancing religious freedom, the sanctity of life, and the family."
National Association of Evangelicals: represents 45,000 churches from 40 denominations; based in Washington, D.C.
National Hispanic Christian Leadership Conference: an association of Hispanic evangelical churches based in Sacramento, CA.
World Relief: "the compassionate service arm" of the National Association of Evangelicals, based in Baltimore, MD. In the U.S., they serve refugees, victims of human trafficking, and other immigrants through more than 24 local offices and in closer partnership with local churches.
World Vision: "a Christian humanitarian organization dedicated to working with children, families, and their communities worldwide to reach their full potential by tackling the causes of poverty and injustice." Based in Federal Way, WA, World Vision is in nearly 100 countries, including the U.S., "providing emergency assistance to children and families affected by natural disasters and civil conflict, working with communities to develop long-term solutions to alleviate poverty, and advocating for justice on behalf of the poor."
Please note that Evangelical and other Christian charities get paid handsomely by U.S. taxpayers to minister to refugees and illegal immigrants. See "Collusion of Church & State in Invasion of Illegals: $182M to house "unaccompanied children" for just 4 months'.
See also:
Shocking video shows Europe's refugee crisis is a Muslim invasion

Europe's 'refugee' crisis and the Kalergi plan for white genocide

Letter from Germany: Europe is in chaos

Soros aids invasion of Christian Europe by Muslim refugees, says Hungary prime minister

8 Syrians caught sneaking across U.S.-Mexico border. Obama threatens to veto refugee-vetting bill

State governors refuse Syrian refugees, 98% Muslim, who get staggeringly generous services from taxpayers

Trump calls Obama 'insane' to flood U.S. with Syrian refugees

Europe's "refugee" crisis is coming to America: 10,000 Syrians already here; Obama plans to bring in many times more
~Eowyn