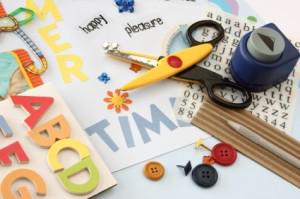 When I recently moved homes, I was on a quest for unique address labels. I couldn't find anything as appealing as the design in my head – so I decided to design and print my own labels.
I found a website offering a variety of sticker templates, as well as a slew of fonts and design elements. The labels turned out beautifully. I get compliments from family and friends on a regular basis. And, since that time, I've created stickers for home organization, scrapbooks and more. The process is easy and fun, too.
Here are a few tips for beginners:
When designing stickers for an event, understand that while script fonts add beauty, they can also be difficult to read. So, for instance, if you are creating personalized name tags for a reunion or price tags for a jumble sale, choose a font that is easy to read. Rather than using a background colour, use colour on design elements only.
If you are designing stickers for the home, be as creative as you'd like. Homemade stickers are perfect for labelling jars and boxes in cupboards, closets and offices. They can also add charm and beauty to glass apothecary jars, spice jars and kitchen canisters. This is a perfect opportunity to collaborate with your children, too. Kids love stickers, and most love being creative.
Once you have designed your stickers, you will need to purchase blank sticker paper in the appropriate size. If you are using a template you found on a sticker designing website, you should easily be able to locate the individual sticker dimensions in your browser window. If you are using a word processing template on your computer, you will likely find the sticker dimensions listed in your document setup. Most large stationery stores carry sticker paper in a variety of shapes and sizes. If you are creating stickers for a scrapbook, I recommend printing on archive-quality card stock and adding an acid-free paste to the back.
Almost any printer is capable of producing quality stickers for use in the home or at a personal event. It is recommended that before you print your customized stickers, you clean the ink cartridge heads. Instructions for doing so can be found in your printer's manual. Cleaning the ink heads will give you untainted colour prints.
When loading the sticker paper into the printer, be certain that it will print on the correct side. Also, be prepared to replace ink cartridges while printing the stickers. I recommended you print one sheet at a time so that you can check the print quality of each one. You definitely do not want to waste the adhesive paper or card stock, as they are both considerably more expensive than regular printer paper.
There are a variety of ways to add dimension and interest to your stickers once you've printed them. For instance, you may want the stickers to be water resistant. To do this, simply coat the printed stickers with an acrylic spray finish. For a glitzy finish, consider an acrylic glitter spray. To make three-dimensional stickers, use adhesive "dots," which are commonly found in the scrapbook area of a stationery store. These dots will give height to any embellishments you add to the sticker, thereby creating dimension. You are limited only by your creativity when it comes to designing stickers. Let your imagination run wild.
Whether you're planning an event or organizing your home or office, customized stickers are an inexpensive way to bring character and colour into your world.
This guest post was written Thomas O'Rourke on behalf of Vistaprint. Please let me know if you have any comments or suggestions.