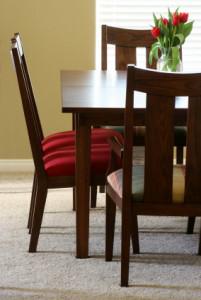 Every room in your home can receive the eco-friendly treatment when it comes time for an upgrade or total makeover, but one of the easiest and least expensive is the dining room.  While kitchen and bathroom remodeling will provide for a lot of impact (and a big return on investment), they can also be extremely pricy when it comes to upgrades (especially if you're taking on the extras of an eco-friendly remodel).  So despite the fact that you may not get quite as much bang for your buck when you go green in the dining room, you can still create a lovely and livable space for your family to enjoy their meals (while doing less harm to the environment and saving some money, to boot).  Here are just a few areas to focus on when remodeling the dining room with your green sensibilities in mind.
Flooring.  The dining room is not the place to install carpet (since the potential for staining is high), but you don't want to denude a rainforest or gouge holes in the Earth just so you can have some great flooring (plus, you're not sure you can afford the expense).  Never fear; there are plenty of solutions that will address both problems.  Reclaimed hardwood flooring is one good solution that will look fantastic and cost you less, but you may also want to consider a laminate (which comes with a warranty to cover spills).  If tile is what you want, forget marble, granite, or other natural stone and opt for ceramic, faux stone, or even stained concrete or recycled glass tiles, all of which are better for the environment and less costly.
Paint.  If you haven't yet heard about the VOCs (volatile organic compounds) found in most interior paint, it's time you learned.  The fumes created by VOCs can linger in your home for years (even after the smell is gone), leading to all sorts of health problems such as respiratory issues, headaches, and even more serious conditions (they have been linked to cancer).  So nip the problem in the bud by opting for low- or no-VOC paints to create a beautiful space that is equally healthy for your family and the environment.
Lighting.  Compact fluorescent lights (CFLs) are far better than incandescents, lasting several times longer and cutting your energy usage (saving you money over time even though they are slightly more expensive up front).  Plus, they fit into standard fixtures and now come in dimmer wattage.  But if you really want to do your part, consider installing special fixtures to house LED (light emitting diode) bulbs, which conserve even more energy.  If all else fails, use natural light by eating earlier or burning a few candles (drawing no energy at all).
Dining room table.  This is the focal point for your dining room, so it needs to make a statement.  For an eco-friendly alternative to new furniture, check out estate sales in your area to find a gorgeous piece that you can give a second life.  Or look at an eco-friendly home store for dining room tables if you strike out with second-hand.
Other furnishings.  Chairs will most likely come with the table, but if you really can't stand the ones you've got, the most eco-friendly option is to add some cushions or slipcovers (made with organic fabrics) or simply reupholster (rather than sending the whole lot to the dump).  And if you're on the market for a sideboard or hutch, look for refurbished items or simply repurpose something from storage in your garage, such as the chest of drawers that's been attracting dust for years; a fresh coat of paint could make it the perfect fit for your remodeled dining room.