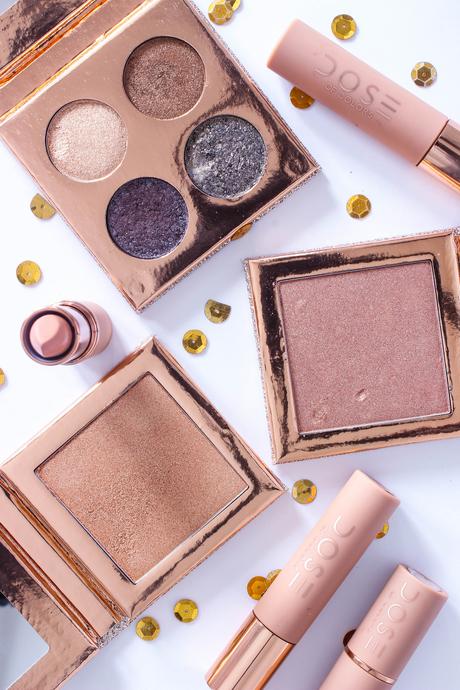 Listen, I am obsessed with the Desi x Katy x Dose of Colors collection.
I have talked about this collection so much since I got my hands on it in November. I mentioned it in my last post, Dark Makeup Edit, and the liquid lipsticks were going to be the focal point in my next post. Then I was like, "hmm, maybe, I should write a post about the entire collection before I start mentioning it in every other post I write."
So here we are.
The collection includes:

The Girls eyeshadow quad ($28.00)
Fuego highlighter ($28.00)
Mírame highligher ($28.00)
Hot Fire liquid lipstick ($18.00)
Saváge liquid lipstick ($18.00)
No Shade lipstick ($16.00)
More Creamer Please Lipstick ($16.00)
Over The Top lipgloss ($15.00 | not pictured ;_;)
This collection is limited edition, however, Dose of Colors is still selling the remaining products from the collection. That includes the two lipsticks, the two liquid lipsticks, and the highlighter in
Mírame
.
Who knows, Dose of Colors might bring the collection back for funsies.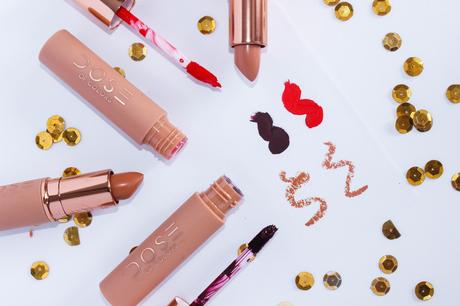 I wanted to start with the lippies first because the picture is prettier (lmao).
All these colors are waaaay out of my comfort zone. I am an NC42 in MAC, so very vibrant colors are a hit or miss for me. However, I am slowly coming around to colors like these (I am going to talk about that in my next post).
Wednesday's post is going to be about the two liquid lipsticks in this collection, so you will see me wearing the liquid lipsticks.
- vibrant red-orange liquid lipstick that is in your face. Dries semi-matte.
Saváge - Deep plum purple liquid lipstick. Dries matte.
- Pink nude lipstick. Dries semi-matte (swatched under Hot Fire).
More Creamer Please - Tan nude lipstick that is similar to NC42 in color. Dries semi-matte (swatched under Saváge).
Both the lipsticks apply beautifully but I find I have to mix both colors to get that perfect nude for myself. However, they don't last very long, so reapplication is a must.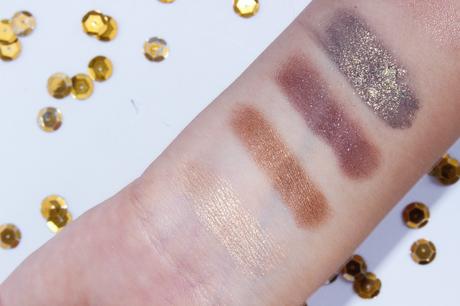 From left to right: Noli, Suz, Harpoon, and Turbosan.
I am absolutely in love with The Girls palette, so much that it was included in my 2017 Beauty Favorites.
One thing I touched on in that post was that this palette is special because a lot of makeup palettes collaborations tend to stick with very natural everyday colors. This palette has two natural and two very bold colors.
Noli - Gold champagne that is supposed be used wet.
Suz - Deep bronze.
Harpoon - Deep mauve with blue shimmers.
Turbosan - Deep taupe with a green and gold glitter reflex that is supposed to be used wet.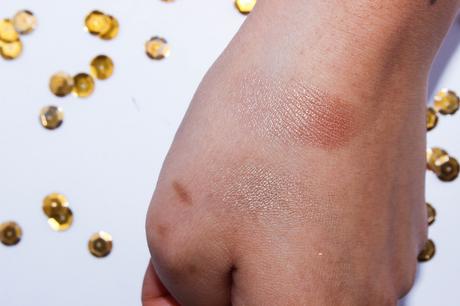 The highlighters were difficult to photograph because I am a noob.
The highlighter swatched at the top is Mírame and beneath Mírame is Fuego.
Mírame - rosy-bronze highlighter (no glitter).
Fuego - true gold highlighter (no glitter).
I love these highlighters and they have become my go-to since I decided to retire my Jaclyn Hill Face Palette. Mírame is what I use on my cheekbones because it gives me a natural glow because it suits my skintone while I use Fuego for my nose highlight and inner-eye highlight.
I also like to layer these highlighters when I decide to strobe.
Overall, I love the face and eye products of this collection, however, I am still getting used to the lip products.
If I could repurchase, I would just get the The Girls palette and the two highlighters, but skip the lip products.
Have you bought anything from this collection?