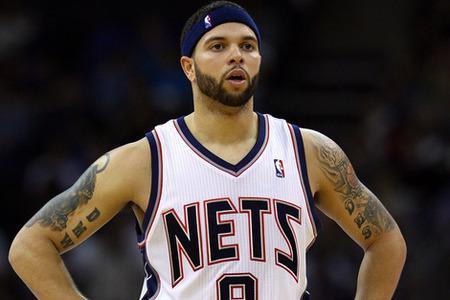 Photo: newyork.sbnation.com
- Adam Parker
Bad news for the Nets and their fans as Deron Williams reportedly will not sign an extension with the team during the season.
His agent, Jeff Schwartz, offered his explanation to the Bergen (N.J.) Record, "Based on the new rules, it doesn't make any sense for him to sign the extension. It has nothing to do with how much he likes New Jersey. Because of the rules, he's going to play the season out and opt out of his deal."
Does this news signal the start of panic mode in New Jersey? Not quite.
According to sources close to the team, the Nets aren't concerned by the news, and it's what they expected would happen all along.
This move isn't at all surprising coming from Williams' camp. After all, he stands to earn approximately $30 million more by opting out and the end of the season and signing a new free agent contract with the Nets, if that's what he ends up doing.
Under the new CBA, once it's ratified, Williams has two options. He could sign a two-year extension sometime during the season that would be added to the two years remaining on his current contract, bringing the total value of the deal to roughly $70 million over four years.
However, if he sticks to his guns and waits until after the season, he could garner a five-year, $100 million deal if he went back to the Nets, or a four-year, $70 million deal from any other team.
The Nets are currently doing everything they can to retain Williams's services long-term as it heads for Brooklyn and the $1 billion Barclays Center in 2012-13.
They are also said to be in the market for a big man to pair with Williams.
Could it be Orlando's Dwight Howard?
Sources told ESPN.com's Marc Stein that the Nets were in the process of putting together a package of players and draft picks in an effort to acquire the Orlando Magic center, which would give the team two superstars.
Owner Mikhail Prokhorov purchased the Nets to build them into a contender. Now, he just needs to hope that he can convince Williams to sign on long-term, and maybe, just maybe, pair Howard with him.
Good luck New Jersey, you'll need it. 
Be sure to follow Beard And Stache on Twitter 
@BeardAndStache
, 
and also Adam 
@Adam_Parker43
, Like our Facebook page 
HERE
!