Dermocalm lotion review| Bye pimples |Affordable dupe of Mario Badescu drying lotion
Hello my lovely people out there!!!
I get one question on an almost everyday basis on Instagram and that is - "how to get rid of pimples" and I always tell there are a lot of reasons why a person can get pimples and acne. But I have recommended this dermocalm lotion to many and after few days they messaged me back that it's working. So I thought of making a blog post rather than explaining everything to every single person individually.
To start with I would like to first let you know that this dermocalm lotion is a calamine-based lotion from a very famous and leading pharma Brand GlaxoSmithKline (GSK). This is my most favorite pharma brand as their products are mild and effective. And now many get scared hearing it as a pharmaceutical brand. But chill, this is just a lotion containing some calamine and ingredients that helps in drying up pimples. So with this basic introduction let me get into the review.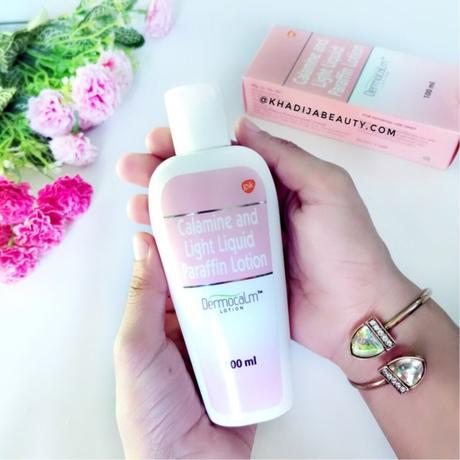 Price: Rs. 153
Availability:
In any nearby pharmacy. Couldn't find online. If you find it then please let me know. I will update it here.
My experience with Dermocalm lotion
Packaging
It comes in a plastic bottle with flip open cover. They are completely travel-friendly and you can find all of the details on the sticker.
Ingredients: calamine, light liquid paraffin.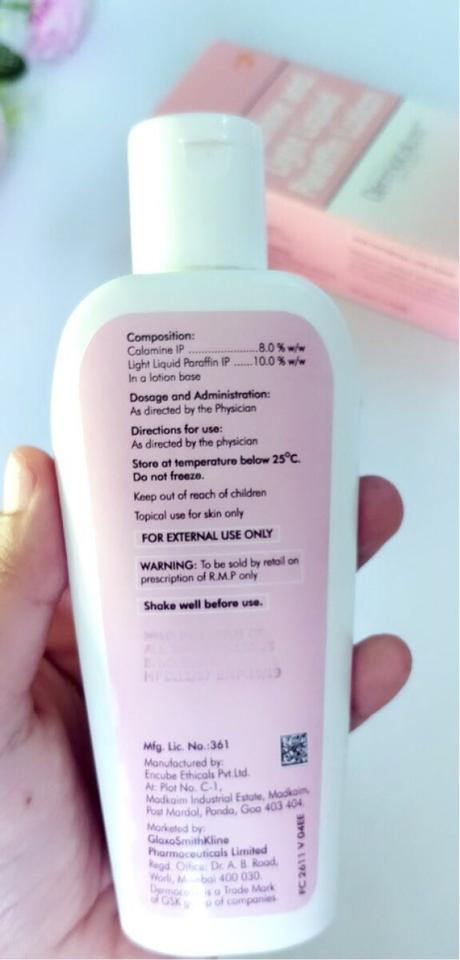 I feel that they have some hidden ingredients which they used to mention earlier but not now. I remember they had glycerin in their ingredient list but now couldn't find it.
How do I use dermocalm lotion?
This is a multipurpose lotion. It can be used as a moisturizer, for spot treatment or a generous amount of it all over the face as a sleeping pack.
I use it in all the above ways depending on my skin condition.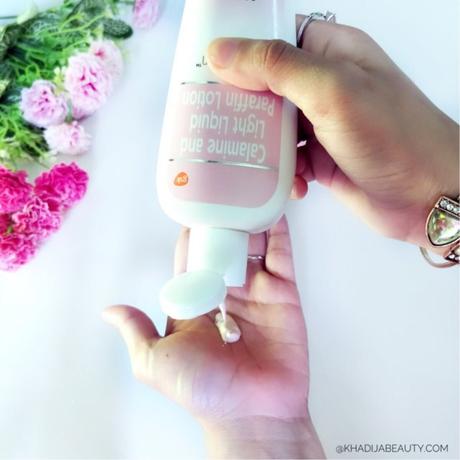 Dermocalm lotion for getting rid of pimples
Since it has calamine in it, this lotion can be applied on pimples or irritating skin without any fear.
Most of the time what I do is, after cleansing my face I take a good amount of this dermocalm lotion and apply not just on the pimple but it all over my face, just like how we apply a face mask. These days this is my nighttime skincare routine. It dries up after 5-7 minutes you can go to bed after that so that it doesn't stain your pillowcase
Tip you can also follow
I do this every night even if I don't have pimples on my face. Because calamine has soothing and antiseptic properties. And this dermocalm lotion provides hydration. So instead of layering up loads of products for hydration, I prefer this one product which does a better job. And it also protects my skin from getting any future breakouts.
On the days when I face occasional breakouts, I spot treat it with dermocalm lotion even during the day. I have an oily skin but there are days especially during this climate change my skin reacts and becomes dry. So I even use this as my moisturizer.
How effective is this dermocalm lotion?
If you have a small pimple then this dermocalm lotion can dry up your pimple in a day or two. And if you have got big/multiple pimples then you would observe that all your pimples will start drying and curing in seven days or so. I would suggest you to apply a thick layer of this lotion every single night to see best results. Because I noticed this to work amazingly well when used in that way.
Another thing which you will notice probably after 2-3 days (if you use it like me)is that your skin will become really soft after washing your face in the morning. This will also help in preventing any further breakouts. And when used regularly it also lightens the acne scars. However, I would suggest you to try this for at least 15-20 days before jumping into any conclusions. I am sure you will be able to see the changes before that.
If you have a flaky dry skin then you should definitely try this as your moisturizer. Calamine helps in calming down the skin. So if you have any allergy or itchy skin then you can definitely reach out to this. And I am telling you all this because I have personally tried using it in all the above situations. It really helped me.
I have heard that Mario Badescu dry Lotion helps in drying out the pimples. But I have never personally tried it. Still, after reading the reviews I feel like this dermocalm lotion can be considered as an affordable dupe of that. Not completely sure but I do feel that.
Amazing things about dermocalm lotion
Dries up the pimples quickly
Very very effective
Make the skin baby soft when used regularly
Affordable
Improve the skin texture 
Helps you achieve a healthy and clear skin
Can be used as a moisturizer also
Treats itchy dry skin and pimples
Lightens the scars
Cons:
NONE
Final verdict
I have been using it for more than 4 years and I still can't get over it. No matter what your skin condition is, I would highly suggest this to all. It dries up the pimples and treats it effectively. Even if you don't have pimples I would recommend you to use this every night, as it improves the skin texture and prevents from getting pimples.
Also Read
HOW TO GET RID OF PIMPLES FAST- PART 1
HOW TO GET RID OF PIMPLES FAST- PART 2
HOW TO GET RID OF DARK SPOTS- NATURAL REMEDIES
Oil Cleansing Method for acne| Get a guaranteed clear skin
Easy skincare guide you should follow for beautiful skin
Bid Goodbye to Dark Circles with home remedies- Here's how!
That is it guys. I hope this post helped you. Do try and let me know your results. 
If you have any queries feel free to ask in the comments section below or mail me or DM me on Instagram.
If you liked this then please follow and subscribe me and stay tuned for more such posts.
Lots of Love
Khadija 
Let's be friends and get social!You can find me on Instagram| Twitter| Facebook