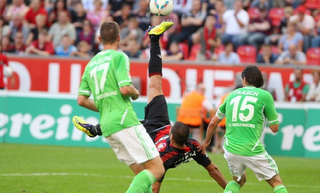 I don't often watch the Bundesliga, and I rarely watch Bayer Leverkusen. Yet Eren Derdiyok's bicycle kick might be enough to turn me around, and make me into a Bundesliga fan.
Bayer Leverkusen were hosting Wolfsburg at home and drawing 1-1 after having taken the lead. In the 65th minute Derdiyok decided he wasn't interested in a draw, and so he performed a stunning bicycle kick winner.
Sounds simple doesn't it? Check the goal out below:  
Is this the best goal you've ever seen? It shows great control, presence of mind to flick it over the defender, and the great amount of skill to bicycle kick it into the goal. Share your thoughts about the goal in the comments below!