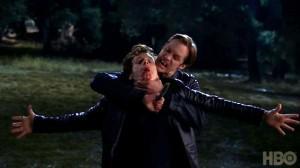 A lot of vampires met the true death on Sunday's season finale of HBO's True Blood but not everyone got to go out with a fantastic final line like Russell Edgington (Denis O'Hare) did.  O'Hare spoke with Vulture about Russell's demise, Steve Newlin, and what he will miss the most about the show.
O'Hare says that everyone always knew in the end it would be Eric (Alexander Skarsgard) who would kill Russell but there was some question as to how they could do it.  With Russell being so much older and so much more powerful than Eric, how could they possibly stage it so that Eric could get the upper-hand.  Getting Russell drunk on fairy blood and distracting him with more fairies was the perfect way to do it.  O'Hare talked about the moment when Eric got the stake into Russell and there was a brief second where it appeared that he was going to survive.  When the light began to dim Russell delivered a very Russell-esque parting line saying [email protected] before he turned to goo:
That was Alan Ball's rewrite, and when I saw that, I thought, Oh my God, that's perfect. I mean, what else is Russell going to say? I love that his attitude is more like, Ah, well, not a sense of resistance or a last flash of anger, pity, or pathos. I think you get that sense in Interview With the Vampire that vampires get bored after they stay alive a long time, and it's hard to keep forming new attachments. When Russell lost Talbot [in season three], he also lost some of the meaning in his life, and that's why he grabs on to Steve Newlin. He needs a reason to enjoy life, because at this point, the pursuit of power isn't enough. He might as well die; who is there left to meet — Mitt Romney?
Speaking of Steve Newlin (Michael McMillian), whom O'Hare describes as brilliant, apparently when the two of them got into a room together they would improv a lot of scenes, some of which made it onto the show.  He says that the scene where they met Jason on the porch and he used his fingers to hypnotise him was all improv and Ryan Kwanten kept laughing.  There was also a scene in the frat house where Steve and Russell were dancing and O'Hare says they weren't just dancing they went for the full make-out session but those scenes were cut. 
In the finale we all saw Bill rise from the blood and the question on everyone's mind is where this story is going to go.  O'Hare says he simply doesn't know:
Even in season three, they were stepping away from the books, but now? We're in uncharted territory. Bill was always the moral center, and to unmoor him like this? How will he find his way back to "humanity"? Would he have to die for Sookie? I don't know.
Alan Ball mentioned in his interview with TV Line, which you can see by clicking here, that there was a possibility we could see Russell in flashbacks.  O'Hare was asked if there is a possibility we could see Russell in flashbacks, possibly with other progeny.  He says that it could be that there were no others but Talbot.  He goes on to talk about the back story that he created for Russell on his own, including his theory that Russell was a slave for most of his life and after he was made a vampire he killed all the slave masters in a rage.
Now that his time is up on True Blood, with the exception of a possible flashback here and there, O'Hare says he is going to miss the people the most:
During season three, we had such a great core group — the actors who played Lorena [Mariana Klaveno], Talbot [Theo Alexander], Franklin Mott [James Frain], plus Alex [Skarsgaard], Stephen [Moyer], and Anna [Paquin]. We hung out so much on set, because we had a lot of scenes together. I was pretty close to Kristen Bauer, too. I love her. We were such a good group. And there was definitely talk around the set during season five about not killing Russell. One of the cast members was lobbying to keep Russell around, and he went and talked to Alan and the head writers, but they sadly shook their heads, and they said, "For credibility's sake, he has to go. We can't let him survive again." 
O'Hare won't say who was lobbying for him but he does confirm that it was a very major character.  He agrees though that they couldn't allow Russell to live and that fans would get bored of him if they did.
With an Emmy nod for 'American Horror Story', O'Hare was asked if he was going to pop up again during the second season of the show and his reply was that you never know.  His character Larry wasn't wildly popular according to O'Hare because "being neurotic is almost never sexy".
Well even though storyline dictated it, fans are no doubt sorry to see Russell and O'Hare depart the show.  To read his full interview with Vulture, click here.
Source:  Vulture.com – Denis O'hare on True Blood's Season Five Finale
Image Credit: HBO