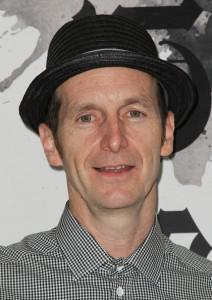 True Blood's Denis O'Hare will appear at Chicago's Court Theatre's Midwest in An Iliad, now in previews before an official opening November 19. We reported snpiy Denis and Lisa Peterson's adaptation the play here. Denis's first playwriting credit came about when Peterson sought him out in 2005 to read and examine Robert Fagles' English translation of Homer's ancient Trojan War epic The Iliad.
O'Hare was originally supposed to star in the world premiere of An Iliad at Seattle Rep, but his casting in True Blood scuttled those plans. Instead, Tony Award-winning actor Stephen Spinella (Angels in America, Spring Awakening) appeared in An Iliad in Seattle and a subsequent run at the McCarter Theatre in Princeton, N.J.
Although there was talk between O'Hare and Peterson about him appearing in the Court production of An Iliad, TV work once again prevented him (this time it was American Horror Story). Yet O'Hare made certain that he will appear in An Iliad in February 2012 at the New York Theatre Workshop, where he will alternate performances with Spinella.
As for O'Hare, he's currently enjoying his increased national exposure as an actor thanks to TV and film work like The Good Wife, Milk and especially in True Blood. In fact, O'Hare was interrupted mid-interview by a True Blood autograph seeker.
"I'm old enough in this business that I sort of gave up on the idea that I would be discovered and turned into a movie star—that idea died when I was about 30 or 35, but I was very happy being a working actor," O'Hare said, adding that he didn't entirely factor in garnering fame via cable TV. "I have no illusions about what it means and how long it will last, but I am enjoying it."
O'Hare himself was surprised at all the media coverage he got his past July when he married his longtime partner, interior designer Hugo Redwood, in New York just a few days after it became legal in that state.
"I decided to go ahead and tweet something about my marriage and I guess there were a lot of journalists sitting around with nothing to do on the West Coast covering some sort of fall TV series launch and they all picked up on it and it went out like wildfire," O'Hare said.
Although O'Hare wouldn't reveal any major True Blood plotlines, he did disclose that Russell Edgington will return even though he was seemingly killed off.
"I'm coming back [for True Blood's fifth series] mid-season because of An Iliad. I'm amazed that we were able to negotiate around that," O'Hare said. "I'm very happy to come back and actually I got the first two scripts for True Blood and I've been hungrily reading them."
Although Newell hopes that audiences will come see O'Hare and Peterson' An Iliad because it's a critically acclaimed theatrical adaptation of a monumental epic of western civilization, he's very open to welcoming in die-hard True Blood fans.
"We work in a very complicated marketplace," Newell said. "If Denis O'Hare's acting in other aspects of the entertainment world draws some attention to people coming out to see An Iliad, then fantastic."
An Iliad continues through Dec. 11 at the Court Theatre, 5535 S. Ellis. visit http:// www.CourtTheatre.org for more details.
source: windycitymediagroup.com