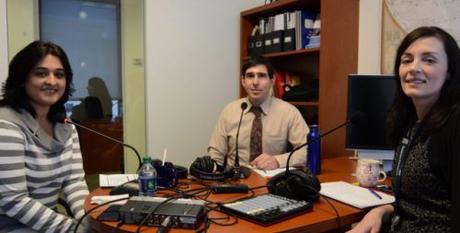 From left: podcast guest Ayesha Bilal, with guest host Marc Schleifer and host Julie Johnson
On this week's Democracy that Delivers podcast, Ayesha Bilal, Chief Operating Officer of Pakistani think tank PRIME (Policy Research Institute of the Market Economy), discusses PRIME's work encouraging citizen involvement in public policymaking in Pakistan. She talks about PRIME's highly successful Scorecard project to track how well the government has met its economic reform promises. Bilal shares how PRIME included the government as a stakeholder in the project and how the government is now using the Scorecard to track its own progress.
Bilal talks about the importance of tackling issues that have a broad appeal, and tactics for involving many sectors of the population in policy discussions – from homemakers to entrepreneurs to business owners. She stresses the need for openness and transparency in research and advocacy projects, and the importance of encouraging discussion, not imposing solutions. She also discusses PRIME's current #FairTax campaign.
For more information on PRIME, Pakistan's leading economic research think tank, visit: www.primeinstitute.org
Follow PRIME Institute on Twitter: @PrimeInstitute
Want to hear more? Listen to previous podcasts at CIPE.org/podcast.
Subscribe to the podcast on iTunes or on your Android device.
Like this podcast? Please review us on iTunes to help other listeners find the show.