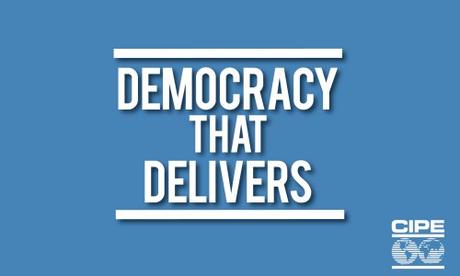 This week, instead of a new Democracy that Delivers podcast, we're highlighting the three most listened to episodes from 2016.
The first most listened to episode is a conversation with Selima Ahmad, a CIPE partner and the founder of the Bangladesh Women Chamber of Commerce and Industry. In the episode, Ahmad talks about how she built an organization that helps thousands of women entrepreneurs and what it takes to be a successful businesswoman in Bangladesh.
In the second most listened to episode, Ken and Julie sit down with American Interest journalist Karina Orlova to discuss the risks reporters in Russia face and why she had to leave the country. She covers her experience reporting on Russian politics and business and the powerful forces that exert control over journalists and media outlets.
And third most listened to episode is an event CIPE co-hosted with OpenGovHub on Leveraging Youth and Technology for Governance Reform. The event featured panelists Director of Programs & Strategy, North America at Souktel Maggie McDonough, former Atlas Corps Fellow and social media manager at CIPE partner CEDICE, and Founder and Executive Director of Accountability Lab Blair Glencorse and was moderated by CIPE Program Officer for Global Programs Maiko Nakagaki. The event was held in honor of International Youth Day.
Thank you for listening to Democracy that Delivers throughout the year! We hope you've enjoyed it and look forward to making more episodes in 2017.
Listen to past episodes of our show here.
Like this podcast? Please review us on iTunes to help other listeners find the show.