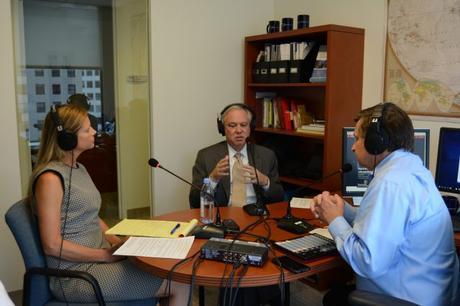 Guest Dr. Kim Holmes (center) with hosts Jennifer Anderson and Ken Jaques.
Dr. Kim Holmes, who recently returned to the CIPE Board of Directors after a 15 year hiatus, discusses how his views on democratic and economic development have evolved through the years. Holmes discusses specifically how his views on the role of economic development in conflict zones has changed and why. He also talks at length about his new book, The Closing of the Liberal Mind: How Groupthink and Intolerance Define the Left. This podcast is co-hosted by CIPE's Communications Director Ken Jaques and Program Officer for South Asia Jennifer Anderson
 Learn more about Dr. Holmes and his work.
Disclaimer: The CIPE  Democracy That Delivers podcast encourages guests to freely discuss their experiences, ideas, and opinions. The views expressed by guests are their own and do not necessarily represent the views of the Center for International Private Enterprise (CIPE).