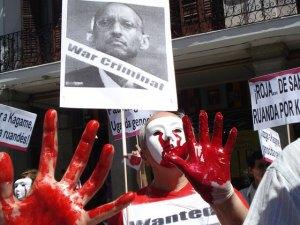 This is an illustration of Paul Kagame's criminal hands that Howard Buffet and Tony Blair are avoiding to consider in their advocacy for the dictator so their business interests continue to flourish in the region, at the expense of millions of Congolese, hundreds of thousands of raped women, Rwandans, and others, for almost 20 years now.
While the current focus of media on the Great Lakes region has been for a few weeks on the ongoing crisis in Burundi, there are other political events also of some importance which are happening almost simultaneously in neighboring countries that risk of being missed out, though they could have significant consequences in the regional stability of the coming months, if not years.
The Rwandan regime of president Paul Kagame is pressing ahead forcing its citizens to change the current constitution and allow an end to term limit for the incumbent. In Uganda, president Joweri Museveni has arrested the main opposition leader Besyge and others who are claiming electoral reforms and an independent electoral commission, this ahead of next March 2016 presidential elections.
Paul Kagame has been in power since 1994 while Joweri Museveni will have done three decades in office next year. Paradoxically these two presidents find that they need more time leading their countries as if they have become kings ruling over kingdoms they have inherited from their families.
On 20/05/15, with other expert witnesses, Dr David Himbara, a representative of Democracy In Rwanda Now (DIRN), a new platform of political and civil society organisations, and individuals, concerned and interested in the future of Rwanda, will be presenting at the US Congress a testimony on the situation of human rights in that country.
Please find below the press release announcing that hearing.
WASHINGTON, May 14, 2015 /PRNewswire/ — The House Foreign Affairs Subcommittee on Africa, Global Health, Global Human Rights and International Organizations announced today that it will hold a hearing on May 20 to examine Rwanda's deteriorating human rights record under President Paul Kagame.
The hearing, "Developments in Rwanda," will feature testimony from several experts on Rwanda including David Himbara, a former top economic aide to President Kagame and coordinator of the North American branch of Democracy in Rwanda Now (DIRN); Robert Higiro, a former Rwandan army major who fled the country when he was ordered to assassinate Rwandan dissidents living in South Africa; and Robert Jackson, Principal Deputy Assistant Secretary in the US Department of State's Bureau of African Affairs.
"I highly commend Chairman Christopher Smith (R-NJ) and Ranking Member Karen Bass (D-CA) for holding this very important hearing, which will shine a brighter spotlight on Rwanda's troubling and worsening human rights record," said Mr. Himbara.
"I sincerely hope that this hearing, in addition to raising awareness among members of Congress and the American people about President Kagame's repressive regime, serves as a critical step toward ending the troubling, long-established authoritarian governance of Rwanda. The Rwandan people deserve to live in a country of opportunity and freedom, not one of tyranny and fear."
In recent years, President Kagame has taken deliberate steps to control Rwandan media, silence all opposition and quiet those who criticize his regime, as evidenced in Human Rights Watch's World Report 2015. The US State Department has condemned these actions, with spokesperson Jen Psaki noting in a Jan. 16, 2014, press briefing that the United States is "troubled by the succession of what appear to be politically motivated murders of prominent Rwandan exiles."
Many Rwandan opposition activists have disappeared or died under mysterious circumstances; the State Department's 2013 Country Report on Human Rights Practices states that Rwanda has "major human rights problems," including "arbitrary or unlawful killings both inside and outside of the country, disappearances, torture, harsh conditions in prisons and detention centers, arbitrary arrests, prolonged pretrial detentions and government infringement on citizens' privacy rights."
Democracy in Rwanda Now (DIRN) is a non-profit, non-governmental organization that promotes democracy, free speech and human rights for Rwandans.
CONTACT
Dr David Himbara
Democracy in Rwanda Now (DIRN)
[email protected]
SOURCE Democracy in Rwanda Now
RELATED LINKS
http://www.democracyinrwandanow.org