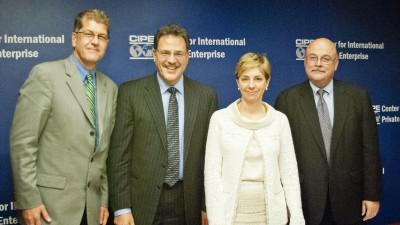 Moderator Steve Clemons and panelists Larry Diamond, Michele Dunne, and John D. Sullivan. (Left to right; Photo: Staff)
In the past year since the uprisings in the Arab world, there has been no shortage of debate on the political future of Arab countries. Yet we are all still grappling — in Washington as in the affected countries — with the economic dimensions of this upheaval and their implications for political transition. While the region may be in the early stages of a long transition marked by considerable opportunity, the opportunity can only be sustained if key economic challenges are soon addressed.
On May 15, CIPE had the pleasure to host two experts who possess a strong grasp of the political economy issues at stake: Larry Diamond, Director of Stanford University's Center on Democracy, Development, and the Rule of Law (CDDRL), and Michele Dunne, Director of the Atlantic Council's Rafik Hariri Center for the Middle East. Steve Clemons from The Atlantic moderated an insightful discussion, which also featured John Sullivan, CIPE's Executive Director.
While the uprisings can be interpreted through different lenses, Dunne stated that without the underpinnings of economic reform, the political transitions will face trouble. Former regimes that had been producing economic results ran out of time as they became discredited by human rights abuses and political repression. So in order to win public support for economic reform, honest government is an imperative. Diamond spelled out at least three things the public requires to accept reform: governments must be legitimate (beginning with counter-corruption efforts); they must present a road map for reform; and they must engage people in the reform process.
Although Egypt is widely understood to be a pivotal country, Diamond observed that Tunisia has disproportionate significance as a symbol of democratic transition and a test case for the region, in the way that Portugal once was in 1974. Another interesting comparison raised by Dunne was between Libya and the United Arab Emirates. The contrast between these countries, once at a similar level of development, illustrates the importance of governance to economic prosperity and human development.
Clemons keyed in on the issue of economic informality, especially Hernando De Soto's study of informal merchants' concerns in North Africa. Clemons suggested that finding solutions to small and medium entrepreneurs' specific grievances could provide an entry point to broader reforms. Sullivan cited the barriers that informal businesses continue to face, including the costs of registering a business (equivalent to a poor merchant's annual income) and the lack of a framework to accommodate bankruptcy, which results in many poor business people being sent to prison.
To address these concerns, Sullivan recommended mobilizing small and medium business owners through associations, as CIPE does by helping the Federation of Economic Development Associations (FEDA) in Egypt. The CDDRL recently published a case study on CIPE's work with the FEDA, "Economic Reform and Democracy in the MENA Region: A Case Study of CIPE's Projects in Egypt and Lebanon."