It is instructive, at this point, to compare two of producer-director Cecil B. DeMille's historical epics, both dealing with the pirate and privateer Jean Lafitte under the title of The Buccaneer. Taking place in and around New Orleans, and along the bayous and waterways of early 19 th century Louisiana known as Barataria, the two films (the first, from 1938, in black-and-white, and the other from 1958, in glorious Technicolor and eye-catching VistaVision) feature, as a secondary protagonist, the equally colorful and charismatic Major General Andrew Jackson.
Jackson served as our seventh U.S. president from March 1829 to March 1837, but the films concentrated instead on the prior events of the War of 1812 and the lead-up to the Battle of New Orleans of 1814.
The War of 1812 was considered a "do-over" for the defeated British army of King George III. The forces of His Royal Majesty that came back to fight in America - that is, to pick up where their colleagues had left off during the Revolutionary War - were, in essence, battle-hardened veterans of the Napoleonic campaigns. No pushovers as far as trained combatants were concerned, the Red Coats were met by a raggedy bunch of volunteers, misfits, Native Americans, poorly equipped Creoles, and African American slaves.
Joining them were bands of desperados governed, to put it mildly, by French-born adventure seeker Jean Lafitte (his actual surname is spelled Laffite, with two "fs" and only one "t"). Fabulously wealthy due to their plundering of Spanish ships off the Caribbean Coast and near the Gulf of Mexico, Lafitte and his followers, to include his brothers Pierre and Alexandre (who is called, in both film versions, by the bogus moniker Dominique You), decided to fight for the American side.
History records that Lafitte's brother, Pierre, had been captured and arrested for piracy by the Americans. Their idea was to use Pierre as a bargaining chip in order to obtain Lafitte's loyalty to their cause. Yet, frère Pierre is neither mentioned nor found in either screen production. Logically, the screenwriters may have felt that one brigand named Lafitte was more than enough to handle.
Nevertheless, both films capitalized on the involvement of Maj. Gen. Jackson, who took command of a seemingly hopeless situation by spearheading the defense of New Orleans. What Jackson found when he got there was a city without means, i.e., one lacking even the basic necessities regarding supplies and munitions so as to put up a spirited resistance. Jackson had to contend with Lafitte and his cutthroats, whom he despised for their thieving ways.
The American Governor William Claiborne had previously refused to deal with Lafitte. Instead, he ordered that his base be attacked by U.S. warships harbored nearby. This led to Lafitte's retreat into the bayous and the capture of some of his followers, including brother Dominique You. Interestingly, "General" You and his compatriots had once served in Napoleon's Grand Army as cannon and artillery men. Their expertise in that department would eventually prove useful to Jackson and his buckskinned squirrel shooters. He would need them, as well as their ample supply of arms and munitions, for the coming confrontation with the British.
Born in the State of Kansas, actor Hugh Sothern, who played Maj. Gen. Jackson in the 1938 version of The Buccaneer, was a supporting player (usually uncredited) in flicks from the 1930s and 40s. A distant relative of Jackson's (Sean Wilentz, Professor of History at Princeton University, labeled him a "collateral descendant"), Sothern conveys his kinsman's volatile personality, hair-trigger temper, and the capricious, mercurial nature of a future U.S. president and Creek Indian War hero.
But that as it may Jackson's appearance in the picture is rather inconsequential. As was the norm with DeMille, there were a plethora of character vignettes by a who's who of scene stealers, each scrambling to top the other. Among the players were Akim Tamiroff as Dominique You, Walter Brennan as the cantankerous Ezra Peavey, Ian Keith as Senator Crawford, Franciska Gaal as Gretchen, Margot Graham as Annette de Rémy, Douglass Dumbrille as Governor Claiborne, Beulah Bondi as Aunt Charlotte, Robert Barrat as the duplicitous Captain Brown, Fred Kohler as Gramby, and Stanley Andrews, Paul Fix, Luana Walters, John Rodgers, and, in cameo roles, Spring Byington as Dolly Madison, Montagu Love as Admiral Cockburn, and literally dozens of familiar faces.
One of those faces belonged to that of DeMille's son-in-law, the Mexican-American Anthony Quinn, as Beluche. He's the fellow with the faux Creole accent and thin black mustache. Oh, wait! They ALL had faux accents and thin black mustaches - in particular, the titular buccaneer himself, performed by Wisconsin-born Fredric March. DeMille had earlier cast him as Marcus Vinitius in The Sign of the Cross (1932), one of those Romans vs. Christians toga epics. March portrayed Lafitte in typically flamboyant fashion, what with the florid dialog he was forced to spout. Incredibly, March's impersonation rang true to history. He even resembled the real Lafitte, at least as far as the few surviving portraits of the scoundrel showed.
One of the reasons for the capture of Lafitte's brother Pierre was to thwart his illegal operation of converting the vast plunder they had acquired into hard cash. In shutting down Pierre's operation, Lafitte was deprived of his livelihood and, consequently, whatever creature comforts his nefarious lifestyle had provided. Survival, then, not patriotic fervor, was central to Lafitte's participation in the American effort to thwart the British invaders. Patriotism was the farthest thing from his mind. Still, Professor Wilentz attests to Lafitte's bravery under fire, not only earning a pardon for him and his men from then-President James Madison, but the "warm public thanks from an admiring Jackson."
DeMille's writers, Jeanie Macpherson, Edwin Justus Mayer, C. Gardner Sullivan, and historian and biographer Harold Lamb, took sufficient liberties with the story to provide a fairly decent box office return on Paramount Studios' investment. Of course, they had to invent several romantic interests to hold the audiences' attention (recalling the mantra of the period, in that you had to have a woman in there to soften the rough edges).
Two decades later, DeMille decided to revisit his earlier take, much as he had done with the 1923 silent version of The Ten Commandments. With the worldwide success of his lavish remake of The Ten Commandments in 1956, DeMille intended to make a splashier musical version, believe it or not, of the role Jean Lafitte played in defeating the British. However, after suffering a heart attack while filming a strenuous Exodus sequence in the desert, DeMille was forced to cut down his activities. Taking the title of executive producer instead, C.B. assigned the directing chores to Anthony Quinn, with his former production duties being taken over by longtime friend and actor Henry Wilcoxon.
Sadly, the remake of The Buccaneer turned out to be "a disastrous flop," according to John Douglas Eames in The Paramount Story, who blamed the lack of DeMille's formidable "creative drive" and the "unexciting account of the pirate Lafitte" on the producer-director's waning health.
To give the 1958 version its due, the picture is beautifully photographed by veteran cinematographer Loyal Griggs ( The Ten Commandments, 1956), with the addition of three-strip Technicolor providing a feast for the eyes. The $5 million or so budget was well spent on period costumes, and suitable props and paraphernalia, a DeMille trademark. Unfortunately, the film is dead on arrival as drama, with the fabricated love angle between Lafitte (an uncomfortably bewigged Yul Brynner) and Gov. Claiborne's nubile daughter Annette (the lovely Inger Stevens) straining credibility to the breaking point.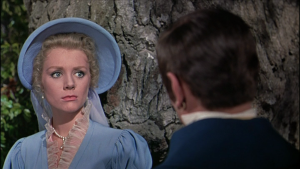 Much of the casting, too, was well below par for a purported DeMille epic. For instance, the newly invented character of Bonnie Brown (Claire Bloom), the Creole offspring of the renegade Capt. Brown (Robert F. Simon), struck few onscreen sparks. And the normally reassuring presence of such movie heavies as Ted de Corsia, Bruce Gordon, and John Dierkes (their mugs hidden behind false beards and whiskers), along with E.G. Marshall as Gov. Claiborne, and Lorne Greene as the excitable Mercier, verged on egregious miscasting, especially in the flowery wardrobe, oversized pirate hats, and ersatz "period" dialog. Even the hulking Woody Strode made little impact.
At least the magnetic Charles Boyer was capable of bringing authentic French flair, along with a decent accent, as Dominique You (in addition to the requisite charm), while the overly querulous Henry Hull took over for Walter Brennan as an annoyingly persistent Mr. Ezra Peavey.
Birds of a Feather Rarely Flock Together
The whole studio-bound effort should have been scrapped from its inception. So why did DeMille (or rather, those who were laboring in his stead) insist on the remake being made at all? For one, the wily producer-director had a nose for box office receipts, despite the dreary results and poor reviews. For another, he likely wanted to capitalize on the crackling screen chemistry generated by Yul Brynner, the "sexy bald guy you love to hate," and the latest hunky male attraction, Charlton Heston. Their initial teaming in The Ten Commandments (as Pharaoh Rameses and the Deliverer Moses, respectively) proved most lucrative for Paramount Studios' coffers, offering viewers a fascinating clash of acting styles.
In between these two assignments, both Heston and Brynner were kept busy with movie work. In Heston's case, he appeared in three back-to-back productions for three different studios: Three Violent People (1956) for Paramount, which reunited him with Anne Baxter, another alumnus from The Ten Commandments; Touch of Evil (1958) for Universal, with maverick movie director Orson Welles and Janet Leigh; and The Big Country (1958) for United Artists, directed by William Wyler, and starring Gregory Peck, Jean Simmons, Carroll Baker, and Burl Ives. This was followed by his biggest part yet, in Wyler's Ben-Hur (1959), another widescreen remake of a silent classic.
As for Brynner, he fulfilled two contracts for Twentieth Century-Fox in the film version of Rodgers and Hammerstein's The King and I (1956) with Deborah Kerr, and Anastasia (1956) with Ingrid Bergman; and for MGM's The Brothers Karamazov (1957), with Maria Schell and Claire Bloom, his costar in The Buccaneer.
Comparing the two versions of The Buccaneer, both films followed a similar scene-for-scene path. The latter feature included some slight alterations from the earlier flick, in that the refurbished script (by Jesse Lasky Jr., son of Jesse Lasky, one of DeMille's fellow Hollywood pioneers; and Bernice Mosk) substituted the boy Miggs (Jerry Hartleben) as the lone survivor of the downed fictional ship, the Corinthian. In the original, the person confronted with the news of the Corinthian's sinking was Gretchen (Franciska Gaal).
The climax and dénouement are also similar. One of the major differences lies in the approach to Lafitte's personality. Yul Brynner adopted a brooding mien, quite apart from Fredric March's self-confident air and lack of diffidence. Brynner also took to sitting on an armchair, a makeshift "throne" (à la Rameses II) in his bayou stronghold - with one leg over the armchair's side. Hardly kingly behavior! He may remind audiences of Auguste Rodin's sculpture The Thinker.
In addition, there's a 1950s take on the two love interests: that is, the blonde and blue-eyed, playing hard-to-get New Orleans belle Annette, portrayed by Inger Stevens; contrasted with the bayou wildcat, an untamed, dark-haired, and purposely darker-skinned Bonnie, played by Claire Bloom, a tomboy in petticoats and fancy ball gowns. This is reflective of the general change in attitude towards women of the time, the gathering storm of the coming sexual revolution. Annette Claiborne is the highborn daughter of Lousiana's governor, a trophy bride over-and-above Lafitte's social station and class; whereas the plain-Jane Bonnie Brown (she wears her name on her sleeve) represents the forbidden other-side-of-town gal, an easier mark for Lafitte, so we may think, but a huge step down in rank.
In both films, Lafitte accepts the blame for the sinking of the Corinthian and the death of all on board. And in both, he and his cohorts are run out of town, so to speak, with Maj. Gen. Jackson giving him an hour's head start. The disparity, as it were, between these two features is in the execution. The 1958 remake is more "dramatic," if heavy-handed and obviously theatrical (a remnant of DeMille's silent movie days). Although DeMille remained on the sidelines for this one, his influence is everywhere, most convincingly with the commanding entrance of Heston's Moses-like Jackson, spouting fire and brimstone in an otherwise strained situation.
As Lafitte is being dragged bodily to his own hanging by the outraged citizens of New Orleans, Old Hickory Jackson fires a pistol into the air as he bursts into the room, with Mr. Peavey by his side and squirrel rifle in hand.
"By the Lord God," Jackson thunders, "I'll kill the next man who moves!" Who writes scenes like this anymore? One has to see this sequence to believe it.
"I think I admired Andrew Jackson more than any of the other men of that [historical] genre I've played," Heston went on record as saying. Curiously, Heston had his first opportunity at portraying Old Hickory in Twentieth Century- Fox's production of The President's Lady (1953), a film more preoccupied with soap-opera hysterics than actual facts. Still, it led to his approaching DeMille for background information.
"DeMille had let me see his 1938 version of The Buccaneer to study the character. He also let me look at some research material. He was very kind about it ... Five years later DeMille was planning to remake The Buccaneer. At the time I don't think it was settled to what extent he was planning to involve himself in the production. I still had one picture left on the contract that Paramount had purchased from Hal Wallis. I asked to play Jackson in a cameo role to use up the remaining commitment. [Wallis] thought it was a fine idea. The intended cameo role, however, blossomed into a considerable part as the script developed."
Another connection to The Ten Commandments was in the choice of composer for the films score. Elmer Bernstein, whose music for the earlier feature was much admired, wrote a similarly-themed score for The Buccaneer. Listen closely to the title music, and you will hear hints of leading motifs reminiscent of the 1956 epic.
End of Part Two
(To be continued .....)
Copyright © 2018 by Josmar F. Lopes