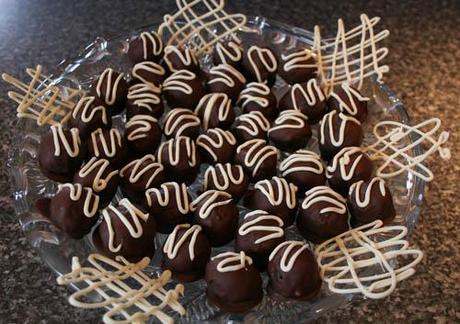 Image source:www.craftsforum.com
Still waiting for those all important presents? Looking for a last minute luxurious gift to give to give to your neighbor or simply want to surprise someone unsuspecting with a little Christmas cheer? With only three shopping days left until Santa comes to town, you may be starting to panic that those well thought out gifts may not arrive in time.
Fear not, these delicious treats filled with chocolatey goodness are guaranteed to put a smile on everyone's face and the best news is that they can be whipped up in under an hour. Before you are all fooled into thinking that I am some kind of domestic goddess,  I would like to thank Miss Kira Lauber for inspiring this post with her fabulous Oreo recipe.
Miss Lauber's Magic  Recipe
Step 1) Crush 2 packets of Oreo cookies or pop them in the blender for speedy results
Step 2) Mix with one large pack of Philadelphia and blend until smooth
Step 3) Roll into ball shapes and place on greaseproof paper
Step 4)Pop in the fridge to cool
Step 5) Melt milk chocolate in a bowl and dip each oreo truffle individually before placing back in the fridge
Step 6) Add the finishing touches and drizzle a little white chocolate over to decorate or alternatively use a sprinkle of edible gold glitter
Step 7) Package your chocolate creations in boxes filled with tissue paper or bundle in tissue paper alone and secure with a ribbon. Homemade chocolatey gifts that are 100% hassle free
Voila!