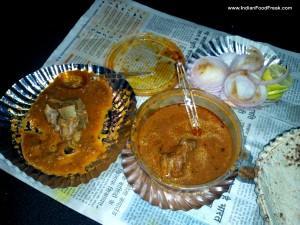 "Authentic and Honest Food mostly comes from the streets". I have grown up hearing this and always look towards them whenever I feel like have rustic gastronomical experience. After hearing a lot about Deena Meat Shop, today we decided to savor the hype ourselves. It was not that easy to locate this hide out for the person who does not know much about old Gurgaon but it is certainly worth the hustle.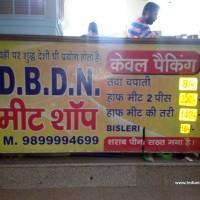 After asking for the directions from various people we finally managed to reach there. This 25 year old word of mouth success is managed by Babloo, a very humble and quiet gentleman.  To our surprise, there was no backlit board highlighting the name of the shop. It's a small take away which only serves mutton curry and tawa roti with onion salad. Such is a confidence of the owner on his preparation. The mutton Curry costs Rs. 200 with 2 pieces of mutton and only gravy costs Rs. 140. One has an option to either take the packed mutton curry home or do the famous CAROBAAR (eating on the parked car).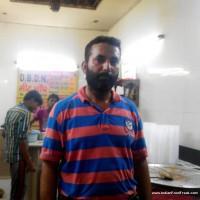 Putting an end to our wait, we ordered for mutton curry along with tawa rotis. The mutton curry was an absolute delight. It was a very rustic and accurate blend of spices. The gravy had generous amount of keema. It was high on chilli, just how a mutton curry should be. The whole mutton curry was going very well with soft and fresh tawa rotis. Onion sprinkled with a special salad masala was taking the whole experience to a different level. We were sweating with heat of the curry but it was still leaving us craving for more. The mutton was very tender and well cooked.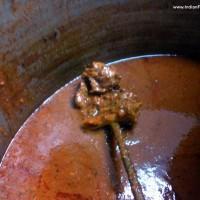 "Satisfied" is one word to sum up the whole experience. The whole preparation is done in pure desi ghee. Even the garam masala used is grinded in house. The shop is kept very clean and the packing done is hygienic. Even while packing onions, the salad masala is packed separately. I would sum up the whole experience as brilliant and DNDB certainly tops the charts when it comes to mutton curry. The only addition required is some sitting arrangement outside the shop.
Ratings (Out of 5)
Food: 4.0 l Service: NA I Ambience: NA | Overall: 4.0
Meal for Two: Rs 400 I Alcohol: No l Credit Card: No l Timings: 12.30pm-3.30pm (lunch) 6pm-10om (dinner)| Wheel Chair Friendly: No
Address: Deena Mutton, Old Jail Market, Shivaji Nagar, Old Gurgaon | Phone: 98999-88217
How to reach: While coming from Sector 14, after reaching the red light at Sohna chowk on the old railway road, head straight for 30 mts and you can see the Deena mutton shop on the right hand side.
- Hardit Bedi