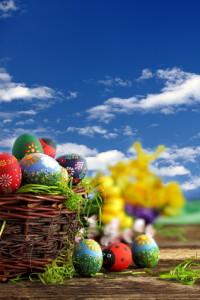 Easter is underrated. Despite being the oldest holiday and an important holiday to Christians, it often plays second fiddle to Christmas (ReligionFacts.com). Easter is during one of the most beautiful times of the year. Presents are fewer but more precious, and it's a wonderful excuse to do some creative crafting and decorate the house, which is one of the better parts! This Easter, think outside the decorative box and try using these four unusual Easter craft ideas.
Easter Tree
Making an Easter-related craft out of a Christmas tree is easier than one would think. Manufactures such as Balsam Hill make artificial Christmas trees in all shapes and sizes, so Easter crafters have a several options. Because they're artificial, Balsam Hill can make unique looking trees. Flatbacks, topiaries and slim profiles can all be adapted to Easter. Add some ribbon, pastel lights, candy in decorative pouches, fake birds, a nest and some eggs. The beauty and creativity is completely up to the crafter. Using an artificial tree as a base, crafters can build the look they want.
Peeps
If one can resist the urge to eat them all, Peeps can be a great way to decorate for Easter. One of the things that make Peeps a good crafting component is how easily and readily they can be affixed to something else. Using hot glue, pins or melting them slightly are all viable ways (some more edible then others), to attach a Peep to a crafting project. The pastel colors of Peeps and their cute appearance make them a natural choice for creating special Easter decorations. Anyone looking for ideas can do a web search and find Peep-crafting websites and examples.
Grass
Flowers are the obvious decorating choice for Easter. They're pretty, colorful, and easy to arrange. Don't ditch the flowers this year, but include some fake grass in crafting decorations. Since it comes in dark or light colors, crafters can strategically use green grass as a base color to brighten or darken decorations. Grass wreaths have become a popular decoration. Borrowing from Christmas wreaths, they are a nice decoration on doors. Ideally one would get the nicer fake grass that actually resembles grass as opposed to the cheap plastic looking grass common in Easter baskets. The higher quality fake grass give crafts a distinctive look as compared to the lower grade.
Bunny Ears
Bunny ears are the type of decoration that crafters don't know they needed until they buy a dozen of them. Put them on any stuffed animal or tolerant pet and it's instant funny cuteness. Bunny ears can turn a run-of-the-mill family Easter photo into a classic hilarious moment. The ears can easily be removed and added to another craft project (an Easter tree or grass wreath perhaps). Try picking up a few pairs of bunny ears at the craft store, a creative mind will find a use for them somewhere.
Celebrate Easter to the fullest this year with some unusual, creative, and dazzling decorations. As with any craft, crafters are only limited by their own imagination (and physics that can't be conquered by the hot glue gun).
Lynn Gibson: A creative and fun-loving cook, Lynn shares recipes and cooking tips with her readers. She's handy at decorating and loves to put her own spin on DIY projects.