"Before you say no [pained pause] don't say no" – Jess (Zooey Deschanel) pleading with Nick (Jake Johnson) to  not bail on their romantic relationship before at least giving it a chance
And with those words, New Girl officially stared down the dreaded Moonlighting curse, and said, "Bring it on!"   After two seasons of unresolved sexual tension, loft roommates Jess and Nick are finally together.  The boy got the girl, but now can he keep her?  By extension, can the show keep its viewers interested now that a huge source of narrative tension has been removed?  Therein lies the risk and dreaded Moonlighting curse.
Centered on a detective agency run by a man (Bruce Willis) and woman (Cybill Shepherd) who loved to argue because deep down they really wanted to sleep together, Moonlighting was the Community of its era (1985-1989) in that it was an art house experiment parading as a major broadcast network TV show.  Read about some of the crazy stuff they did here.  I'll wait.  You back?  Can you believe they did an entire episode from the point of view of Cybill Shepherd's unborn, soon-to-be miscarried fetus? Wow!  However, what you usually hear about Moonlighting is that it's the show in which they put their lead characters together as a couple only to see their ratings fall off the side of a cliff.  As a result, any show which dares put a will-they-won't-they couple together is thought to be invoking the Moonlighting curse, i.e., placed on a surefire path toward tedious storytelling and dwindling ratings.
However, the creator of Moonlighting things the curse is total b.s., and there have been a recent run of Moonlighting-esque shows which have put their lead couples together and actually thrived as a result.  Maybe the curse is not so ironclad after all, although it's also not completely incorrect as multiple shows have befallen similar fates.  Let's take a selected look at the history of the Moonlighting curse, listed from oldest to newest and starting with a show that predates Moonlighting:
1)          Cheers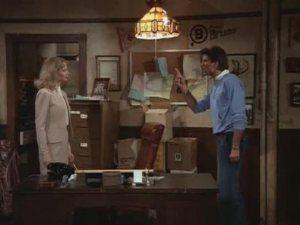 Couple: Sam (Ted Danson), & Diane (Shelley Long), a dim-witted bar owner and the erudite waitress with whom he constantly bickered
When Did They First Get Together?: The season one finale, "Showdown, Pt. 2," in which Diane and Sam trade insults during an argument in his office before ending with one of the all-time classic exchanges in sitcom history:
Sam: Are you as turned on as I am?
Diane: More! [The two kiss passionately].
What Happened After They Got Together?: They stayed a couple for the entire second season before breaking up and spending the ensuing three seasons in an on-again/off-again holding pattern.
Did the Ratings Dip?: Nope.  Quite the opposite.  Viewership more than doubled, and by the time Shelley Long left after the fifth season Cheers was the third-most watched show on television. To be fair, not all of that can be attributed simply to the appeal of Sam & Diane.
Cursed?: No.
2)          Moonlighting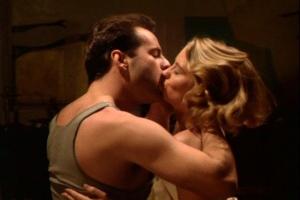 Couple: David (Bruce Willis) & Maddie (Cybill Shepherd), partners in a private detective agency who bantered as if they were in a screwball comedy.
When Did They First Get Together?: "I Am Curious…Maddie," the penultimate episode of the third season.
What Happened After They Got Together?: They spent almost the entire fourth season separated from one another and worrying about their relationship.  This was a by-product of the two actors having incompatible filming availability, Willis due to the first Die Hard and Shepherd due to pregnancy.  David and Maddie resumed their will-they-won't-they dance during the fifth and last season, only coming together again in the series finale in which they confronted an ABC executive for canceling the show.
Did the Ratings Dip?: Yes; ratings dipped slightly in the fourth season before plummeting during the fifth season, its first without show creator/head writer Glenn Gordon Caron.  The 1988 writers strike delaying the premiere of the fifth season until December didn't help things either.
Cursed?: Yes; more because the appeal of the show was the banter between the two leads, and their schedules demanded that they rarely ever appear on screen together in the fourth season.
3)          Wings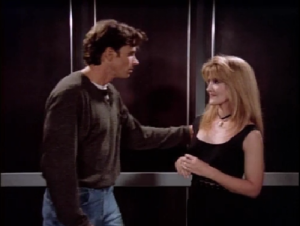 Couple: Joe (Tim Daly) & Helen (Crystal Bernard), a fastidious pilot and the spunky lunch counter owner he's known since childhood
When Did They First Get Together?: "Friends or Lovers" (S2, EP 8), in which Joe and Helen are tired of being alone and try to go out on a date together.
What Happened After They Got Together?: Second season finale break up, fifth season finale reunion, engaged during the sixth season, a married couple during the 7th and 8th seasons.
Did the Ratings Dip?: Yes; the final three seasons featuring the couple engaged and then married dipped each year, falling out of the top 30 in the final two seasons.
Cursed?: No.  The dip in ratings is directly attributable to Wings losing Cheers as its lead-in once Cheers went off the air in 1993.  Plus, quality-wise, the true culprit was the unfortunate departure of Thomas Haden Church as Lowell, who left early during the second to last season.
4)          Lois & Clark: The New Adventures of Superman

Couple: Lois Lane (Teri Hatcher) & Clark Kent (Dean Cain)
When Did They First Get Together?: "The Phoenix" (S2, EP13), in which Lois and Clark try to have their first date
What Happened After They Got Together?: Clark proposed at the end of the season, only to have Lois respond, "Who's asking?  Clark Kent or Superman?" as her way of admitting she had figured out Clark's big secret.  Their wedding was repeatedly delayed throughout the  third season, so often that as an apology to fans they titled the fourth season episode featuring the actual wedding "Swear to God, This Time We're Not Kidding."
Did the Ratings Dip?: Yes and no; ratings hit all-time highs during the third season before tanking during the last season.
Cursed?: Yes. However, it wasn't so much the end of the will-they-won't they tension that doomed the show, but instead the constant teasing and far too delayed follow through on the wedding.
5)          Caroline in the City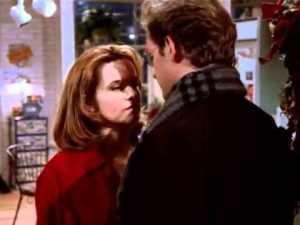 Couple: Caroline (Lea Thompson) & Richard (Malcolm Gets), a Manhattan cartoonist and her employee, both of whom had various other alternate love interests to get past before ending up together
When Did They First Get Together?: "Caroline and the Secret Bullfighter, Pts. 1 and 2," the third season finale in which Richard's scheming wife Julia stepped aside since Richard actually loved Caroline.
What Happened After They Got Together?: They broke up after arguing over whether or not to have children, and she moved on to a different love interest.  The series ended with Caroline's wedding to her new spouse being interrupted by Richard, leaving on a never-resolved cliffhanger as to what would happen next.
Did the Ratings Dip?: Yes; the show only lasted for one season after the two were put together, dropping from the 47th most watched show to 91st.
Cursed?: Yes. It didn't help that Thompson and Gets always felt more like a Will & Grace straight gal/gay buddy relationship than anything romantic.  She was a perfect beard, anything more was kidding ourselves.
6)          Friends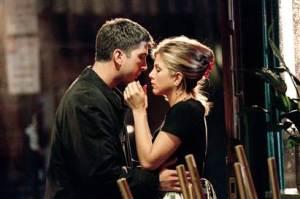 Couple(s): Ross (David Schwimmer) & Rachel (Jennifer Aniston)
When Did They First Get Together?: "The One Where Ross Finds Out" (S2, EP 7), in which upon hearing a voicemail a drunken Rachel left for him Ross responds, "You're over me?  When were you…under me?"  They got together for good six episodes later in "The One With the Prom Video."
What Happened After They Got Together?: They kept breaking up and getting back together, most notably the first time when Ross and Rachel seriously disagreed over what it is meant when a couple decides to go on a break. The will-they-won't-they with the two was so ever-present that they both married (Vegas wedding) and had a kid together (one night stand) before actually reuniting as a romantic couple in the series finale.
Did the Ratings Dip?: Awwww, and might I add, hell no.  Friends was among the 5 most watched shows on TV for all 10 of its seasons except the first, when it was #9.  Plus, Monica and Chandler became the  show's true power couple during the 5th and 6th seasons.
Cursed?: No.  Some of their post-break-up fights are among the most memorable in sitcom history, e.g., "WE WERE ON A BREAK!!!!", and the two actually made for an interesting and funny couple for the 19 or so episodes they were together between seasons 2 and 3.  The constant teasing of the sexual tension did eventually negatively impact the quality of the show, though.
7)          Frasier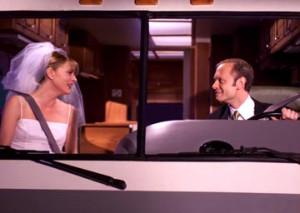 Couple: Niles (David Hyde Pierce) & Daphne (Jane Leeves)
When Did They First Get Together?: "Something Blue, Something Borrowed" (S7, EP 24), in which Daphne leaves her fiance at the altar to run (technically drive) away with Niles.
What Happened After They Got Together?: They married each other a season later, and managed to make it through a couple of truly regrettable storylines (Niles' cancer scare, Daphne's bout with over-eating to hide Jane Leeves' real life pregnancy).
Did the Ratings Dip?: Yes; the season (seventh) in which the will-they-won't-they was foregrounded the most (Daphne engaged, Niles has a serious girlfriend, Daphne finds out about Niles' crush on her) made Frasier among the 6 most watched shows on primetime television that season.  When Daphne and Niles were put together for season 8, they lost nearly 5 million viewers, and 11 spots on the Nielsen season ratings chart.  Each subsequent season continued this slide down the charts.
Cursed?: Yes; they went straight from their second highest rated, most watched season to their lowest rated, second least watched to that point.  Niles and Daphne were simply sometimes difficult to believe as an actual couple, with David Hyde Pierce's lustful cry of "Niles gotta have it!" in one episode being partially funny for the wrong reasons.  However, audience erosion was also likely simply due to the show having been on the air so long.  Plus, as a fan of the show I'd  argue it remained incredibly funny and well-written for all but its incredibly weak 10th season.
8)          Ed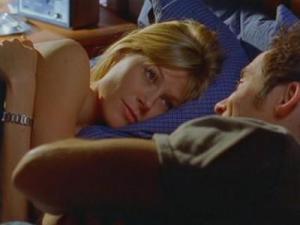 Couple:Ed (Tom Cavanagh), a bowling alley owner/pro-bono lawyer & Carol (Julie Bowen), Ed's high school crush who grew up to be an English teacher at their old school.
When Did They First Get Together?: "The Decision" (S3, EP 22), in which Ed's girlfriend Frankie (Sabrina Lloyd) and Carol give Ed an ultimatum, and in the episode's final moments he chooses Carol over Frankie.
What Happened After They Got Together?: They remained a happy couple throughout the fourth season, marrying each other in the series finale.
Did the Ratings Dip?: Yes; the fourth and final season, its first focused on Carol and Ed as a couple, was easily the least viewed season of the show.  It dropped from #49 on the Nielsen ratings chart to #76, a loss of nearly 2 million viewers.   Things were simply a little too happy for the show's own good.
Cursed?: Yes.
9)          Scrubs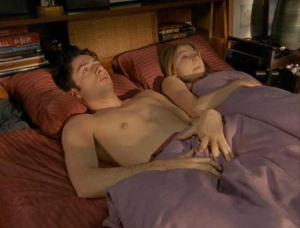 Couple: J.D. (Zach Braff) & Elliot (Sarah Chalke), both medical doctors who met while beginning their residencies at the same hospital
When Did They First Get Together?: "My Bed Banter & Beyond" (S1, EP 15), in which the first month of their relationship is framed in constant flashbacks to the first day which they spent constantly having sex.
What Happened After They Got Together?: They kept breaking up and getting back together, Elliot almost marrying another guy and J.D. having a kid with a different girl.  The were finally on-again for good in the 8th season before appearing in a recurring manner as a married couple in the final, quasi-spin-off season set at medical school.
Did the Ratings Dip?: Yes and no; the ratings dipped considerably for every season of the show past its third, but this is generally more attributable to Zach Braff fatigue (damn you, Garden State!) and the show's whimsical nature having a limited window of appeal.
Cursed?: No; the two were put together so late in the show's run most people had already stopped watching anyway, after having seen the two torpedo each other's competing romantic relationships one too many times along the way.
10)          The Office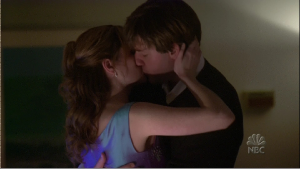 Couple: Jim (John Krasinski) & Pam (KJenna Fischer), officemates who fell in love at work
When Did They First Get Together?: "Casino Night" (S2, EP 22), in which Jim makes his first move on Pam before getting together for good exactly one season later in "The Job" (S3, EP25).
What Happened After They Got Together?: They stayed together for good, marrying each other and having two kids by the end of the series, only experiencing marital difficulties in the final season.
Did the Ratings Dip?: Yes and no; the ratings gradually declined during the first season to feature the two as a couple before rebounding a season later.  It seems to have been when Pam & Jim got married in the sixth season that ratings started to really decline, and absolutely plummeted when Steve Carell left the show after its seventh season.
Cursed?: Yes and no; in the true sense of the curse, did it kill the show as far as ratings are concerned?  It definitely hurt, but what really killed the show was Steve Carell leaving.  However, Pam and Jim certainly became a powerfully boring pair, and their once beloved signature shared eye-rolling at the insanity around them suddenly seemed less like two crazy kids who clearly belonged together and more like them annoyingly mocking the increasingly cartoonish supporting characters.
11)          Chuck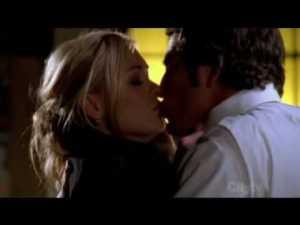 Couple: Chuck (Zachary Levi) & Sarah (Yvonne Strahovski), a geeky spy and his secret agent handler who fell in love on the job
When Did They First Get Together?: "Chuck Versus the Honeymooners" (S3, EP 14), in which Chuck and Sarah decide to be a couple and spies at the same time.
What Happened After They Got Together?: They stayed together until the final couple of episodes regrettably gave Sarah an amnesia that robbed her of her memories of their relationship, a problem Chuck failed to solve in the series finale.
Did the Ratings Dip?: You betcha.  The show dropped 19 and 37 spots on the Nielsen ratings chart in the fourth and fifth seasons respectively, the number of viewers dropping from 5.99 to 4.25 million.
Cursed?: Yes; however, the drop in viewership during the final season is likely more due to the move from a Monday night to Friday night timeslot.  Creatively, there was an initial boost from seeing the two juggle a relationship with their careers as spies, like a Mr. and Mrs. Smith.  However, without the driving force of their relationship the writers were forced to expand the show's universe with an increasingly overly complicated series mythology and ever growing drama for Chuck and his estranged parents, which was not as compelling as what came before.
12)          Big Bang Theory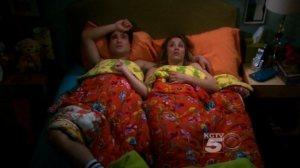 Couple: Leonard (Johnny Galecki) & Penny (Kaley Cuoco), a geek and his gorgeous across-the-hall neighbor
When Did They First Get Together?: "The Electric Can Opener Fluctuation" (S3, EP 1), in which after spending the summer apart Penny passionately kisses Leonard the second she sees him.
What Happened After They Got Together?: Near the end of the third season, that devious devil Will Wheaton manipulated Penny into breaking up with Leonard for not loving him as much as he loves her.  Penny and Leonard reunited for good in "The Recombination Hypothesis" (S5, EP13), and have made strides in the near two seasons since toward a healthier relationship. Penny was even finally able to say, "I love you," to him.
Did the Ratings Dip?: Not even close; it has surged to become among the most watched shows on primetime television.  However, Leonard has arguably become a glorified background character, little used because his function – a straight man to stand to the side with a "can you believe this guy?" expression on his face when Sheldon says something especially egregious – is not as necessary anymore.  The writers (and presumably audiences) are far happier when Penny has scenes with Sheldon because Kaley Cuoco and Jim Parsons are so perfectly matched as comedic foils.
Cursed?: No.
13)          Psych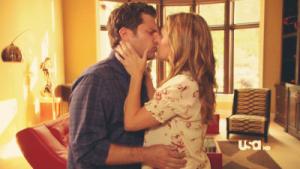 Couple: Shawn (James Roday) & Juliet (Maggie Lawson), a fake psychic and one of the junior detectives he's been flirting with while lying about that whole "psychic" thing over the years.
When Did They First Get Together?: "One, Maybe Two, Ways Out" (S5, EP 9), in which Juliet overhears Shawn admitting his feelings for her.
What Happened After They Got Together?: They hit some real trust issues in the most recent season (the seventh) when Juliet discovered Shawn's big "I've been the conning the police into believing I'm an actual psychic for as long as you've known me" secret.  After breaking up for half a season, they got back together.
Did the Ratings Dip?: Not really, with ratings only having dipped noticeably during the last couple of episodes of the most recent season.

Cursed?: No.  The relationship with Juliet has been an effective way to force Shawn to grow up (if just a little) as well as finally allow for someone to discover his secret.
14)          Parks & Recreation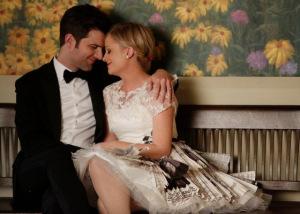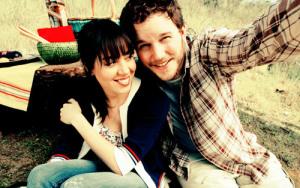 Couple(s): Ben (Adam Scott) & Leslie (Amy Poehler)/Andy (Chris Pratt) & April (Aubrey Plaza), each couple having a prolonged will-they-won't-they tension before being paired together.
When Did They First Get Together?: "Road Trip" (S3, EP 14), in which Ben and Leslie hook up, and "Media Blitz" (S3, EP 5), in which April forgives Andy for kissing Ann.
What Happened After They Got Together?: Andy and April were married within four episodes, in a surprise wedding ceremony, and after having been kept apart both by government bureaucracy and job opportunities in different cities Ben and Leslie finally got together for good and married.
Did the Ratings Dip?: Yes; viewership has dipped the past two seasons, down from 5.1 million viewers to 4.06 million.  However, where the show seemed to really lose its viewers was during the course of its third season, with many either never coming back or simply switching to viewing methods not captured by Nielsen.
Cursed?: No.  Okay, technically, this could qualify, but the quality of the show has been so consistent, its fourth season in particular, that I refuse as a fan to say it has suffered any kind of silly curse.
15)          House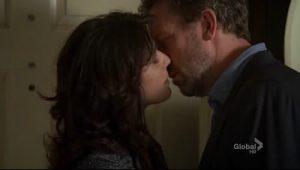 Couple: Dr. House (Hugh Laurie) & Dr. Cuddy (Lisa Edelstein), a misanthropic-but-brilliant doctor and his ever-patient boss who flirted for years
When Did They First Get Together?: "Help Me" (S6, EP 22), in which House is moments away from a vicodin relapse when Cuddy interrupts him and admits her mutual love for him
What Happened After They Got Together?: Dude took their inevitable break-up so poorly he literally drove his car through her living room, briefly inspiring fans to campaign to replace the phrase "jumping the shark" with "driving car through ex-girlfriend's living room."  Doesn't have the same ring to it, though.
Did the Ratings Dip?: Yes and no; the show's ratings actually began their steady decline during the will-they-won't-they ramp-up of season six, but at least leveled off for most of the period of season seven when House and Cuddy were a couple.  It was when Cuddy broke up with House in a poorly written, dream-sequence-heavy episode halfway through the season that the ratings decline began again.  The "car through living room" debacle of the finale, with fan displeasure seemingly vindicated by Lisa Edelstein's departure from the show being announced around the same time, finally pushed House beyond redemption.  The next season was the least viewed in the show's history.
Cursed?: Yes.
16)          Bones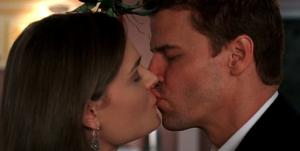 Couple: Booth (David Boreanaz) & Temperance "Bones" Brennan (Emily Deschanel), a FBI agent and a forensics anthropologist who totally complete each other, he all emotions, her all science and logic.
When Did They First Get Together?: Under-mistletoe kissing aside, "The Hole in the Heart" (S6, EP22), in which they engage in implied grief sex after Brennan stays with Booth in his apartment after a colleague of their's has been murdered.  This is left completely unclear until a later conversation between Brennan and a co-worker.
What Happened After They Got Together?: Due to Emily Deschanel's real life pregnancy, instead of getting Brennan and Booth doing standard early relationship stuff fans instead got the two immediately moving in together and expecting a child.   In a particularly inventive way of partially breaking the two up without actually doing so, the most recent season ended with Booth canceling their engagement because he was blackmailed by a bad guy to do so with part of the blackmail being he can't tell Brennan what's really going on.  D-R-A-M-A!
Did the Ratings Dip?: Yes; it hit record highs in viewership in its sixth season, but lost over 2 million viewers and nearly 20 spots on the Nielsen ratings chart in the seventh season with only a slight rebound from the most recent (eighth) season.  However, to be fair, that seventh season didn't premiere until November, and even though it was only a half season with 13 episodes Fox still aired it in three different timeslots.  Its recent rebound occurred during a normal, full order of episodes which aired in the same timeslot all season.  Plus, the unnecessarily brutal way in which they have, often with implausible character motivation and little advanced warning, broken up other romantic couples on the show as of late hasn't helped.
Cursed?: Kind of; fans can argue the quality of the show hasn't suffered at all, but the numbers don't lie – ratings did go down and haven't returned to where they had been.  The shortened season might have just as much to do with that along with the move from Thursday to Monday nights.
17)          Castle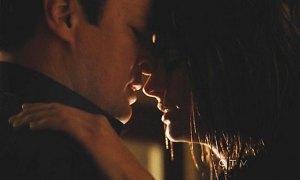 Couple: Castle (Nathan Fillion) & Det. Beckett (Stana Katic), a crime novelist and a detective he works with as a civilian consultant for the police
When Did They First Get Together?: After a particularly emotional case, Beckett shows up at Castle's loft to give him a big old kiss, presumably because her interior "how much longer can we drag out this sexual tension?" timer went off, although also because Castle had been extra supportive that week, "Always" (S4, EP23).
What Happened After They Got Together?: They have lots of sex, manage to keep the relationship a secret from everyone else for a while, and have some out-of-nowhere season finale developments that results in Castle proposing marriage at the same time Beckett is contemplating moving to New York for her dream job.
Did the Ratings Dip?: Nope; they actually went up, if every so slightly (average of 12.18 million viewers rose to 12.26) but enough to make Castle a top 20 Nielsen ratings show for the first time in its history.
Cursed?: Not yet.  At this point, pairing the two has resulted in a welcome amount of humor, particularly with Beckett having to confront Castle's past as a womanizer.
18)          New Girl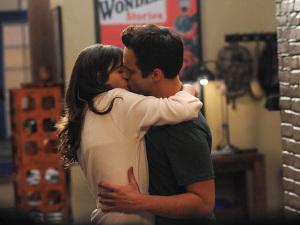 Couple: Nick (Jake Johnson) & Jess (Zooey Deschanel), two 30-year-old loft roommates who can't stop arguing
When Did They First Get Together?: "Cooler" (S2, EP 15) has their infamous first kiss, but they didn't actually get together for good until "Virgins" (S2, EP 23).
What Happened After They Got Together?: At this point, they've gone out on a date which they weren't sure was a real date, slept together the night before Jess' dad showed up unexpectedly, and broken up for like a minute before impulsively heading to Mexico for a vacation out of fear that the relationship will fall apart once they return to their normal lives.
Did the Ratings Dip?: It's way too early to tell.  However, sort of like House before it the weekly ratings actually starting falling once the show started clearly committing to building toward a Jess-Nick union.  It hasn't reached 5 million viewers since last October, and slipped 16 positions on the Nielsen ratings chart.  Then again, that decline also coincides with around the time ABC started airing Happy Endings opposite New Girl as direct competition for the same demographic, a move that ultimately killed Happy Endings but might have also hurt New Girl.  However, we are now in the age of Netflix, and both seasons of New Girl are on there with the most recent episodes also on Hulu.
There are, of course, so many more examples I could have included, but I had to limit it to shows I've actually seen (sorry Gilmore Girls and Grey's Anatomy).  From these examples, though, it appears as if the Moonlighting Curse is rarely ever a slam-dunk.  There are almost always other variables at play, such as the various weirdness leading to the decline of the actual show Moonlighting.  For other shows, there are problems stemming from studio meddling, airing in too many different timeslots, or being scheduled opposite some formidable opponents.  There is also a slightly unexpected couple of cases where people actually started bailing on shows at the height of the will-they-won't-they tension, not even waiting around to see the resulting coupling.
So, where does this leave New Girl?  In show creator/head writer Elizabeth Meriweather we trust.  However, there mere fact that they are doing this might have already lost them some fans who initially enjoyed how the show didn't initially appear to be going the Friends route.  Will the viewers still be there for it in the long run?  If they are, will we have any way of know that for sure with so many non-Nielsen recorded avenues for exposure?
Now, if you'll excuse me I must go weep now for I've just now realized that through this list I have admitted to the world that I watched every episode of Caroline in the City (but not Gilmore Girls).  I'm getting verklempt.  Talk amongst yourselves…in our comments section.