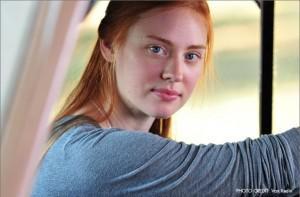 Fans of Deborah Ann Woll, who plays Jessica the newborn vampire on HBO's True Blood, have two treats at the movies coming up.
The first movie is a psychological horror called Mother's Day. When reviewed by Gaper's Block, they had this to say:
Here's a free piece of advice to all future horror filmmakers: if the audience actually cares about your characters, the impact when they die will be so much deeper. That's what you want and what you should aspire to.
And this is exactly what Mother's Day appears to have done. The movie has Deborah Ann playing the sister of three brothers who try to return to the family home after one of them is shot. Unbeknownst to them, their mother (played brilliantly by Rebecca De Mornay) has sold the house and is now living elsewhere. As a result, a whole party of people are taken hostage and tortured by not only the siblings, but mother dearest also.
While this movie has only been shown once so far (on Mother's Day, of course), and is yet to pick up a distributor, it has apparently been slated for release some time in October. For fans of horrors and those creepy psychological thrillers, then reserve a seat for this one!
The next of Deborah's movies changes pace somewhat and comes in the form of Seven Days in Utopia. This story revolves around a father and his son, Luke Chisholm, both of whom play golf. The father is trying to 'help' his son better his game. The result is that the father walks off the course during the middle of a tournament. The son winds up in a car accident in the lonely little town of Utopia. Luke is then found by Johnny Crawford (played by Robert Duvall) and taken back to his farm. Deborah plays the love interest role of Sarah.
This movie looks just as fabulous as Mother's Day, but without all the blood!
Sources: Seven Days In Utopia – Video
IMDb – Seven Days in Utopia
Gapers Block – Thor, The Beaver, Jumping the Broom, Something Borrowed, The Lesson for Day & Mother's Day
(Photo Credit: Seven Days in Utopia/Van Redin)