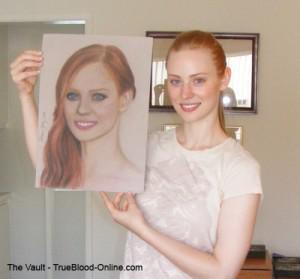 True Blood fans who follow Deborah Ann Woll (Jessica Hamby) on her official Facebook page, have been urged to help raise money for the Choroideremia Research Foundation (curechm.org) by bidding on a signed portrait of Deborah.
The portrait is by Croatian artist Tamara Grozaj. A personalized note to the winning bidder will be included. Signed magazines are also included in the package. A total of six autographs are included: The outer sleeve of SFX UK magazine is signed by Deborah Ann Woll, Anna Paquin and Stephen Moyer. The second magazine (True Blood) is signed on the cover by Anna Paquin and Stephen Moyer and signed inside by Deborah Ann Woll.
Make sure you check out the auction link below and get your bid in early as the auction finishes up on the 17th of July.
Portrait + magazine signed Deborah Ann Woll True Blood
Souce: Deborah Ann Woll Official Facebook Page - Portrait + magazine signed Deborah Ann Woll True Blood
(Photo Credit: The Vault – True Blood-Online.com)