True Blood's Deborah Ann Woll, who plays Jessica and writer, Angela Robinson attended a special genre panel at Comic Con last month.  It was called "Girls Gone Genre," a panel celebrating female creators and empowered characters. The panelists included writers and producers Marti Noxon (Fright Night, Jane Espenson (Once Upon a Time), Karyn Kasuma (Jennifer's Body), Gale Anne Hurd (The Walking Dead) and Angela Robinson (True Blood) and actress Deborah Ann Woll (True Blood).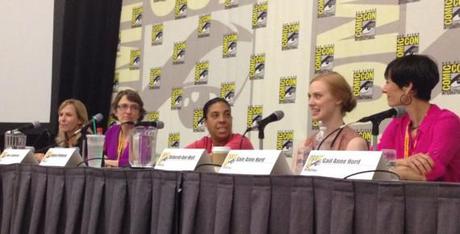 Below are excerpts from this article about the panel that relate to True Blood.
How does an actor's viewpoint in this genre differ from a writer, producer or director?
On her character Jessica from HBO's True Blood, Woll said, "Even in one episode, she can be incredibly sexy and incredibly dorky. She can be incredibly wise and also naïve. … It's never one thing. I also feel that in the past the strong heroine has often been a fighter who takes on very masculine aspects. … I like that Jessica's very compassionate. She becomes stronger the more she opens up to the world and embraces those, what we consider feminine, aspects of herself."
"Genre is a safe space to be transgressive and explore themes," Robinson added. "It was kind of neat to go from The L Word — the nuances of how women interact … it was kind of nice to bring that into True Blood. You can have crazy-sexy or you can have someone just give someone a look and we'll examine that. [In the writers' room]. I see myself as kind of an advocate for the female characters on the show."
Robinson mentioned how when she arrived at a studio to direct Herbie Unloaded, she was sometimes told automatically that the messenger's entrance was in the back. "And I'm like, 'I'm directing the movie!'" she said, laughing with the audience. "People don't know what to make of me. … Whenever there's a black person on a studio lot, we eye each other. And we give this little nod, like, 'You made it here! Good for you!' You walk into rooms and people have these preset conceptions. … So I kind of start talking quickly and intelligently when I'm there in the gap before they can [speak]. And then they have no box for me and they just kind of take it at face value and then we can actually have a conversation."
"I feel very responsible about things, like not being too skinny," Woll revealed, garnering applause from the audience. "There's wanting to be a good role model and encourage other women. You have to have the confidence in yourself."
What advice would the panelists give to aspiring screenwriters?
"Whatever you do, you get good through doing it," Espenson replied. "A lot of disadvantage that women have had in the writers' room is that they aren't given enough time in the writers' room to learn while they are there. It's the ability to fail and get back up that makes you better. Don't just get through the door — persevere. Maybe you'll lose a couple jobs early on, a lot of people do, and stick with it."
Woll added, "I would say really be yourself and stick with your principles. You don't want to do that nude scene? Don't do it. You get a say in your career."
To read the entire article about this panel go to: spinoff.comicbookresources.com