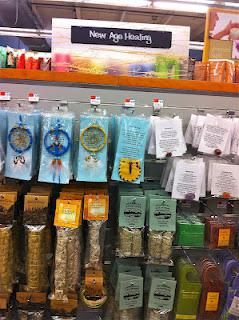 Dear Whole Foods,
This is not 1975 anymore.  It is the year 2012.  The labeling of a product category, particularly in your chain of stores, "New Age" is not only offensive to many of your customers... it is downright outdated and unenlightened.  How about not labeling it at all? Or, if you find you have to name it, at least use the term Alternative Healing or something of that nature.
Oh my dear Whole Foods, I should really stop this note with my complaint about your New Age labeling, but I can't.
Over the last few years many of your customers, those of us who have provided the solid spending base to help you grow and get where you are, have found themselves disheartened and disappointed with your ever growing proliferation of the healthy "junk food" items which line your store shelves.  If a "healthy" junk food item is talked about on Dr. Oz...a display is up at your store within the week.  The store I was in this morning has enough Kale Chips to feed a small country.
Established companies that have provided quality products and nutrition for many years have found their products completely taken off of your shelves and replace with your lesser quality store brand items and your ever present selection of Fair Trade "Chachkies".  In some of your stores the counters with your meat and sea food products are so large and expansive that a lot of the goods are never sold. What a waste of resources.
That said - yes I have to admit though, Whole Foods I am very thankful that I am fortunate to not only live near one of your stores, but two.  And that you are employing people and providing them with health care benefits in an otherwise dismal economy.  But out of the two stores I live by, I still prefer shopping in the small one.  Imagine that.  It's not (quite) as mass market.
I still believe in what you are doing, trying to offer American consumers a healthier life style choice with what they eat - even though you completely caved in recently on the Monsanto GMO fight,  which made many of our friends angry enough to sell their stock.
Well, whatever.
Anyway, all that said... If you could just get rid of and update the label New Age in your stores, that might at least be a small step back into the right direction.
Diane Fergurson
Editor, Mind Body Spirit Marketplace/Odyssey
Montclair, New Jersey
Follow our daily updates for the Mind Body Spirit Marketplace on Facebook and our Blog.